Eight time Olympic Swimming Coach Mark Schubert, who recently joined Dolfin Swimwear as Director of Technical Development, puts his stamp of approval on the Platinum2 Technical Racing Series.
"Dolfin's Platinum2 Technical Swimwear offers superior performance at the highest levels and a price that makes sense!" – Mark Schubert
"The Dolfin Platinum2 exceeded my expectations in the pool. I was definitely surprised by how much I liked this suit. The core and chest compression made all four of my strokes feel great.  It had compression, water resistance, and a flexible fit and seemed to mold to my body better the more I wore it in the water. This is definitely a suit I would never have considered buying before – for no other reason than I wasn't familiar with it – but now I will." – Trials Finalist Julie Stump (courtesy of Swimoutlet.com Blog-"Tech Suit Review")
"I was pleasantly surprised by the performance of this suit given its lower price-point! Typically, I want my suit to fit tighter, but when I dove in I felt an easy, fast glide. This reminded me that you can't judge a book by its cover (or a suit by your initial evaluation)". – Olympic Gold Medalist Mark Gangloff (courtesy of Swimoutlet.com Blog-"Tech Suit Review")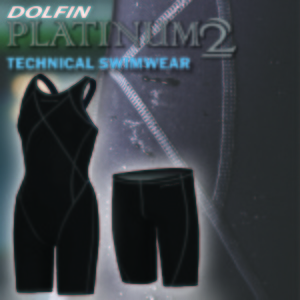 Today more swim teams are competing and training in Dolfin than ever before! Dolfin has been one of the leading swimwear brands for over 50 years. We offer the best value in the industry with the highest standards of innovation and quality. Additionally, our Womens Aquashape line has developed a loyal customer who appreciates durability and fit while exercising in Aqua Aerobics of swimming in Master swim leagues.
Founded and operated in Pennsylvania, Dolfin continues to provide its customers with the best quality swimwear at the most competitive prices in the industry. From product development and design to presentation and delivery, Dolfin is committed to customer satisfaction and to our goal of becoming America's most popular brand of performance swimwear!
Follow Dolfin on Twitter here.
Dolfin is a swimswam partner.