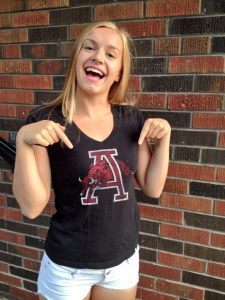 Canadian swimmer Kiera Michailoff-Russell has verbally committed to swim for the University of Arkansas. That will make her the lone Canadian, with information available now, on Arkansas' 2014-2015 roster.
"I decided to go to the states because swimming is a totally different sport there, the team atmosphere is totally amplified and there's so much support and thrill behind the sport," Michailoff-Russell said of her decision to head south of the border for college. "
Michailoff-Russell is primarily a sprint freestyler from the North York Aquatic Club in Ontario, Canada. In long course, her bests are 26.94/58.04/2:06.42 in the 50/100/200 meter freestyles. Those times convert to roughly 23.5/50.8/1:51.0 in yards.
That will give her the opportunity to be on the Arkansas free relays immediately. Arkansas has pretty decent depth and talent in the 400 free relay, which was 6th at last year's SEC Championship meet, but need the help immediately in the 200 free relay.
North York has been home to several other standout swimmers, including Teddy Kalp and former NCAA Qualifier for Ohio State Michelle Williams.