Press Release courtesy of BYU Athletics
Members of the BYU's swim and dive team headed to Puerto Rico, Wednesday Dec. 27, for its winter training camp but is also spending time helping the community after Hurricane Maria destroyed most of the country earlier this fall.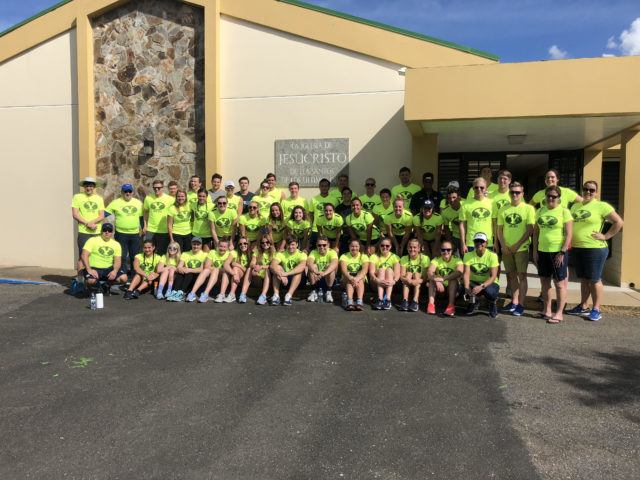 "We have connected with Light Up Puerto Rico to build roofs and hand out solar lights," BYU head coach John Brooks said. "This is a training trip but we will help where there is help needed."
The non-governmental organization's mission is to "help rebuild Puerto Rico and send what's needed most ­– solar-powered generators and light systems, water filtration systems, tent shelters and other supplies to rebuild homes," according to its Facebook page.
Instead of training or relaxing at the beach the team spent their Saturday helping pass out water filtration systems to homes without clean water and cleaning up debris from homes.
In November, 40 volunteers from the Utah Governor's Office and Light Up Puerto Rico traveled and delivered supplies purchased with donations through You Caring. Light up Puerto Rico has also partnered with Tifie Humanitarian, Vivant Solar and many companies. The BYU swim team will continue to help out Light Up Puerto Rico by handing out supplies among other service products for residents of Puerto Rico.
The Cougars will spend most of their trip training at Mayaguez University of Puerto Rico at the RUM Natatorium. The facility has three pools, including a 50-meter Olympic pool, a 25-by-25-meter warm-up pool and a 25-by-35-meter diving pool. BYU last traveled to Puerto Rico in 2013 for winter training camp and has traveled to San Diego in more recent years.
The swim and dive team returns to the United States on Jan. 5, 2018. The Cougars will then compete at Grand Canyon University that coming weekend, Jan. 13, for their first Mountain Pacific Sport Federation conference meet of the 2017-2018 season.