While swim meets and practices are largely on hold worldwide right now due to the effects of COVID-19 (although that's slowly starting to change), BSN Sports still wants to highlight and celebrate swim teams from around the country. This week, we're taking a look at the Sierra Marlins Swim Team in the Sacramento area of California.
The Sierra Marlins' mission is to build "a safe and supportive swimming environment, which develops youth into responsible young adults of integrity," emphasizing the team's commitment to developing swimmers both athletically and in terms of their character. The Marlins have a long history of success, including being recognized by USA Swimming this past year as a Gold Medal Club in the Club Excellence Program.
The Marlins are currently led by head coach and CEO Rob Collins, who joined the Marlins in the fall of 2017. Just over a year later, Collins led the Marlins to their first ever boys winter junior nationals team title, and he's been recognized as one of the top club swimming coaches in the country.
Current Marlins swimmers have committed to some of the top swimming schools in the country, including the University of California (Berkeley), the University of Southern California, and the University of Tennessee, as well as a host of other schools across the various levels of college swimming. The list of notable alumni is long. USA Olympian Haley Anderson, who won a silver medal in the 10k marathon open water event at the 2012 London Olympics, as well as gold medals at World Championships and the Pan Pacific Championships, still holds team records. Another  team record holder is Bryce Mefford, who helped the Cal Bears break the Texas Longhorns four year stranglehold on the NCAA Division Championship in 2019.
With a long history of success and a top-notch staff, the Sierra Marlins are poised to continue to provide an excellent competitive swimming experience to swimmers of all levels for years to come.
ABOUT BSN SPORTS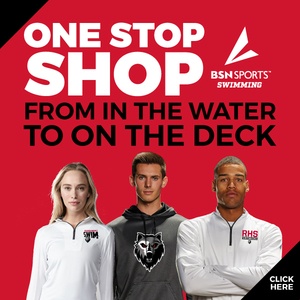 Founded in 1972 as a factory-direct equipment company, today BSN SPORTS is the largest distributor of team sports apparel and equipment in the United States, with over 3,000 employees across 80 regional offices. At BSN SPORTS we believe that sports have the power to change lives. At the heart of what makes sports happen are the coaches, teachers and mentors who work with young and old alike to build meaningful lifelong experiences. That's why our mission is simple. The more time we save coaches with everything they do off the deck, the more time they can spend changing lives. And that's the real final score.
Get your swimmers in custom team gear with your team's logo. My Team shop provides a one-stop-shop solution to custom apparel, suits, footwear, equipment and accessories. It's simple to setup and the My Team Shop platform can even serve as a fundraising solution to earn dollars for your program. To set one up today email us at [email protected] or call 1-877-217-9027.
To learn more about BSN sports visit us at www.bsnsports.com/ib/swimming.
BSN SPORTS SWIMMING ON Instagram – @bsn_swimming