Disclaimer: BlueSeventy Swim of the Week is not meant to be a conclusive selection of the best overall swim of the week, but rather one Featured Swim to be explored in deeper detail. The BlueSeventy Swim is an opportunity to take a closer look at the context of one of the many fast swims this week, perhaps a swim that slipped through the cracks as others grabbed the headlines, or a race we didn't get to examine as closely in the flood of weekly meets.
Not all of the world record-setters from the super-suit era have lasted long in the world swimming rankings after full-body suits were banned. Federica Pellegrini is proving she can.
Even at age 27, Pellegrini is still etching her name among the world's best, and she did it again last week with a pair of dominating freestyle swims at Italian Nationals.
Pellegrini was 53.78 in the 100 free and 1:55.30 in the 200 – both ranked within the world's top 12, and both right at her best times since the suit ban took effect in 2010.
That 53.78 was actually Pellegrini's best time since 2009, a career resurgence coming at exactly the right time. She sits #12 worldwide, and could project to finish even higher in Rio, as 4 of the top 11 are from Australia, and only two of those Aussies can enter the event at the Olympics.
In the 200, Pellegrini is #4 in the world, and was just three tenths off her best swim of the textile era (she went 1:55.00 last summer).
Though the 200 free is stacked up with some elite talents, Pellegrini looks in great form to defend her silver medal from last year's World Championships.
With that silver medal guaranteeing her a spot on Italy's Olympic team, Pellegrini didn't have to swim fast at Italian Trials. She did anyways. And that's the best sign Italian swimming fans could hope for.
Aptly named to suggest 70% of the earth is covered in water, blueseventy is the world leader in the pool, triathlon and open water wetsuits and swimskins. Since 1993, we design, test, refine and craft products using superior materials and revolutionary details that equate to comfort, freedom from restriction and ultimately a competitive advantage in the water. blueseventy products have instilled confidence in beginners as well as carried world-class athletes to countless Olympic and World victories.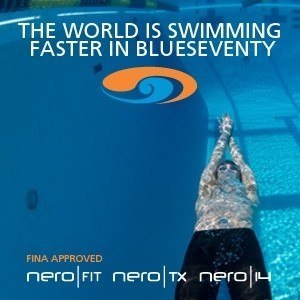 For the latest news and blogs from blueseventy visit www.blueseventy.com.
Twitter: @blueseventy 
Facebook: facebook.com/blueseventy
 Blueseventy is a SwimSwam partner.