Disclaimer: BlueSeventy Swim of the Week is not meant to be a conclusive selection of the best overall swim of the week. The BlueSeventy Swim is an opportunity to take a closer look at the context of one of the many fast swims this week, perhaps a swim that slipped through the cracks some as others grabbed the headlines.
January is a difficult time for college swimmers, who typically do their most intense bouts of training over the Christmas break in classes. The cumulative fatigue of a fall season's worth of training combined with a grueling training trip often send swimmers backwards time-wise, if only for a short stretch of the season.
But this is also typically the time that tough swimmers tend to shine through. Maybe the times aren't eye-popping, and maybe the splits trail off a bit late in the race. But there are iron men and women who simply seem unstoppable, finding ways to get their hands on the wall first, even with their body's resources dwindling.
Georgia's Hali Flickinger is one such iron woman. Flickinger, known for swimming some of the most punishing races in the sport, showed off her versatility over the weekend, picking up three individual wins against South Carolina.
Flickinger departed from her best two events, the 400 IM and 200 fly, where she finished in the top 10 at NCAAs last season, yet still went undefeated for the Bulldogs. Flickinger swam the 100 back and 500 free, plus got one "comfort" event with the 200 IM, which she swam at NCAAs last year.
The 100 back was a 54.31, which is remarkably just about a half-second off of Flickinger's lifetime-best. She came back to win the 500 free in 4:47.44, and with a somewhat short turnaround, then paced the 200 IM with a 2:00.83, the best in the field by well over three seconds.
As Georgia searches for its third straight NCAA title on the women's side, Flickinger seems to be stepping into a bigger role. She scored 20 points individually last year with just one A Final appearance, but if the toughness and versatility she showed last weekend come through in the post-season, she just might turn out to be one of the stars of a very good – and tough – Georgia squad.
Aptly named to suggest 70% of the earth is covered in water, blueseventy is the world leader in the pool, triathlon and open water wetsuits and swimskins. Since 1993, we design, test, refine and craft products using superior materials and revolutionary details that equate to comfort, freedom from restriction and ultimately a competitive advantage in the water. blueseventy products have instilled confidence in beginners as well as carried world-class athletes to countless Olympic and World victories.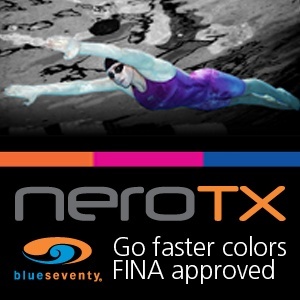 For the latest news and blogs from blueseventy visit www.blueseventy.com.
Twitter: @blueseventy 
Facebook: facebook.com/blueseventy
 Blueseventy is a SwimSwam partner.