Disclaimer: BlueSeventy Swim of the Week is not meant to be a conclusive selection of the best overall swim of the week, but rather one Featured Swim to be explored in deeper detail. The BlueSeventy Swim is an opportunity to take a closer look at the context of one of the many fast swims this week, perhaps a swim that slipped through the cracks as others grabbed the headlines, or a race we didn't get to examine as closely in the flood of weekly meets.
In the post-Michael-Phelps-in-Beijing world, versatility in swimming has never been so highly valued. Across the world, top swimming talents are trying to extend, rather than focus, their event lineups. Japan has Kosuke Hagino, Hungary has Katinka Hosszu, South Africa has Chad le Clos, who is probably a pure butterflyer come Olympic time, but swims anything and everything on the World Cup circuit.
The U.S. has a whole host of young swimmers, from Andrew Seliskar to Gunnar Bentz to Michael Andrew. And now Australia can perhaps counter with Clyde Lewis.
The Junior World Champ in the 200 IM (beating out Andrew head-to-head), Lewis has shown off his versatility this week at the Commonwealth Youth Games in Samoa.
Most impressive was his 200 free win on day 1. Lewis popped a 1:48.88, which would have placed him 4th at Junior Worlds had he swum the event, and is arguably more impressive than the 1:48.3 relay split he swam on the Australian 4×200 free relay team in Singapore.
Lewis has also earned gold in the 400 IM and silver in the 100 back and 400 free, showing an excellent range of events on the international stage.
Obviously, expecting Lewis to translate all of these events to the senior level is too ambitious. But the youngster is providing hope that Australia could soon supplement its great young freestyle corps (Cameron McEvoy, Mack Horton, Kyle Chalmers) with a big-time IMer as the nation tries to return to the top of the swimming hill after a disappointing 2012 Olympics.
Aptly named to suggest 70% of the earth is covered in water, blueseventy is the world leader in the pool, triathlon and open water wetsuits and swimskins. Since 1993, we design, test, refine and craft products using superior materials and revolutionary details that equate to comfort, freedom from restriction and ultimately a competitive advantage in the water. blueseventy products have instilled confidence in beginners as well as carried world-class athletes to countless Olympic and World victories.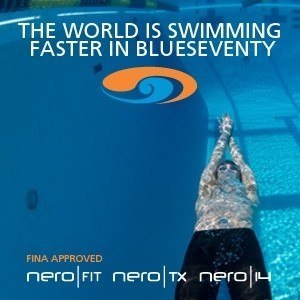 For the latest news and blogs from blueseventy visit www.blueseventy.com.
Twitter: @blueseventy 
Facebook: facebook.com/blueseventy
 Blueseventy is a SwimSwam partner.