Disclaimer: BlueSeventy Swim of the Week is not meant to be a conclusive selection of the best overall swim of the week, but rather one Featured Swim to be explored in deeper detail. The BlueSeventy Swim is an opportunity to take a closer look at the context of one of the many fast swims this week, perhaps a swim that slipped through the cracks as others grabbed the headlines, or a race we didn't get to examine as closely in the flood of weekly meets.
It's an interesting quirk of swimming how often one nation will suddenly find a major talent pool in one event or stroke discipline, with the heated competition between national teammates making the race continually faster as a whole.
Japan's women are starting to ascend to that level in the breaststroke races at the moment, and for evidence of that, one needs look no further than Mina Matsushima's World University Games gold medal.
Matsushima was a 2012 Olympian for Japan, which makes it all the more surprising that she's hardly among the best-known breaststrokers in the country.
Kanako Watanabe is the most high-profile after some great performances on the World Cup circuit, and she holds the #2 time in the world this year in the 100 and the top time in the 200.
In fact, Japan will only bring four women to Kazan to swim individual events at Worlds, and two of them are breaststrokers, with 200 specialist Rie Kanetou joining Watanabe. Kanetou is currently #3 worldwide in the 200 breast.
Matsushima should push that contingent for an Olympic spot next summer, though, after blasting a 1:06.76 to win gold at the World University Games. That time ranks #5 in the world this year.
Depending on how much more Matsushima has left in the tank, Japan could be missing out on a potential medalist at Worlds. Her time would have gotten her 6th at the 2013 World Championships, and she still has finals of the 50 breast yet to swim at the World University Games.
Aptly named to suggest 70% of the earth is covered in water, blueseventy is the world leader in the pool, triathlon and open water wetsuits and swimskins. Since 1993, we design, test, refine and craft products using superior materials and revolutionary details that equate to comfort, freedom from restriction and ultimately a competitive advantage in the water. blueseventy products have instilled confidence in beginners as well as carried world-class athletes to countless Olympic and World victories.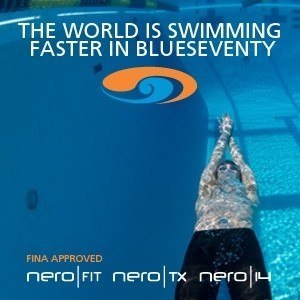 For the latest news and blogs from blueseventy visit www.blueseventy.com.
Twitter: @blueseventy 
Facebook: facebook.com/blueseventy
 Blueseventy is a SwimSwam partner.