Disclaimer: BlueSeventy Swim of the Week is not meant to be a conclusive selection of the best overall swim of the week, but rather one Featured Swim to be explored in deeper detail. The BlueSeventy Swim is an opportunity to take a closer look at the context of one of the many fast swims this week, perhaps a swim that slipped through the cracks as others grabbed the headlines, or a race we didn't get to examine as closely in the flood of weekly meets.
One common theme among swimming fans is uncertainty as to how youth stars will eventually hold up long-term within the sport. In a grueling, training-based sport like swimming, continuing to perform at an elite level for any length of time is a challenge not every athlete is up to.
Jessica Long, though, is an athlete who has done that and more, and she proved it this past weekend by breaking her own 8-year-old world record in the S8 1500 freestyle.
Long, who had her legs amputated at 18 months old due to a condition called fibular hemimelia, has been one of the world's best Paralympic swimmers for more than a decade, transitioning from a young phenom into a wily veteran of the sport.
Long first cracked the Paralympic team in 2004, where she won three gold medals as a 15-year-old at the Athens Games. Within three years, she'd done nearly everything a swimmer could do in the sport, ending the year 2007 with a world record in the 1500 and an ESPY award for Best Female Athlete With a Disability.
But Long's career was far from over. Just last weekend, the now-23-year-old won the 1500 free at the 2015 California Classic, smashing nearly a full minute off the world record she set 8 years ago.
Long's time was 19:03.34, the first time an S8 swimmer has been under 20 minutes in the race, and highlighting her reign of more than a decade as one of the world's premier Paralympic athletes.
You can read more about her meet in our post-meet recap here.
Aptly named to suggest 70% of the earth is covered in water, blueseventy is the world leader in the pool, triathlon and open water wetsuits and swimskins. Since 1993, we design, test, refine and craft products using superior materials and revolutionary details that equate to comfort, freedom from restriction and ultimately a competitive advantage in the water. blueseventy products have instilled confidence in beginners as well as carried world-class athletes to countless Olympic and World victories.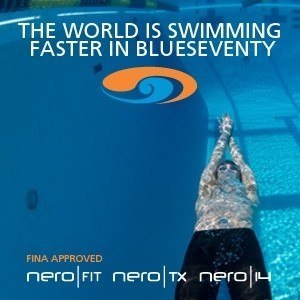 For the latest news and blogs from blueseventy visit www.blueseventy.com.
Twitter: @blueseventy 
Facebook: facebook.com/blueseventy
 Blueseventy is a SwimSwam partner.