Disclaimer: BlueSeventy Swim of the Week is not meant to be a conclusive selection of the best overall swim of the week, but rather one Featured Swim to be explored in deeper detail. The BlueSeventy Swim is an opportunity to take a closer look at the context of one of the many fast swims this week, perhaps a swim that slipped through the cracks as others grabbed the headlines, or a race we didn't get to examine as closely in the flood of weekly meets.
The story of the FINA World Cup series as of late has been Australian backstroker Mitchell Larkin, who is following up his 2015 World titles with one of the most dominant season runs we've seen in years.
On the World Cup's third cluster, Larkin has won a share of 5 out of 6 backstroke races, with three more to swim in Dubai this weekend. Only American David Plummer has been able to match Larkin, beating him once and tying him once in the 50 back. In the 100 and 200, the events in which he won world titles last summer, Larkin is undefeated.
He's part of an Australian wave of dominance in the stroke right now. We profiled his countrymate Emily Seebohm in our Swim of the Week last month, and now Larkin gets his due as well.
Probably most impressive from Larkin was this week's 100 backstroke in Doha, in which he put up a world-leading 52.26 – a time even faster than he went in winning World Championships gold in Kazan.
That time – a new lifetime-best – makes Larkin the 5th-fastest performer in history, and one of the best textile swimmers of all-time.
He's just three tenths of a second off the world record, a hallowed Aaron Peirsol mark from 2009, the height of the "supersuit era," when buoyant bodysuits were still legal for competition.
Like Seebohm, Larkin is putting himself in the driver's seat for Olympic gold heading into Rio. And if he can find just a bit more speed, Larkin is on the cusp of becoming the fastest 100 backstroker in history.
Aptly named to suggest 70% of the earth is covered in water, blueseventy is the world leader in the pool, triathlon and open water wetsuits and swimskins. Since 1993, we design, test, refine and craft products using superior materials and revolutionary details that equate to comfort, freedom from restriction and ultimately a competitive advantage in the water. blueseventy products have instilled confidence in beginners as well as carried world-class athletes to countless Olympic and World victories.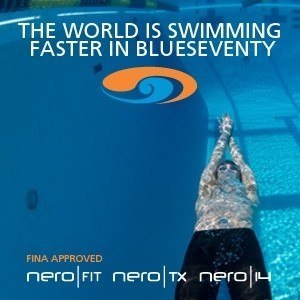 For the latest news and blogs from blueseventy visit www.blueseventy.com.
Twitter: @blueseventy 
Facebook: facebook.com/blueseventy
 Blueseventy is a SwimSwam partner.