Disclaimer: BlueSeventy Swim of the Week is not meant to be a conclusive selection of the best overall swim of the week, but rather one Featured Swim to be explored in deeper detail. The BlueSeventy Swim is an opportunity to take a closer look at the context of one of the many fast swims this week, perhaps a swim that slipped through the cracks as others grabbed the headlines, or a race we didn't get to examine as closely in the flood of weekly meets.
Coming out of heats in the 50 breaststroke at the 2015 World Championships, Italy looked great.
Martina Carraro had set a new national record at 30.83, and both she and 17-year-old teammate Arianna Castiglioni were into the semifinals with solid shots to make the medal heat.
But in the first semifinal, both faltered, gaining time from the morning, falling back above the 31-second barrier and tying for sixth in the heat, just .01 out of dead last in their semifinal. Those swims cause the duo to miss the medal final.
But just four days later, Castiglioni was back in action at Italy's Age Group Championships, making another run at a better evening swim.
It's not often that swimming provides a chance for immediate redemption, so the junior breaststroker made this one count.
Castiglioni bettered her time from Kazan, breaking Carraro's national record en route to a national title in the Cadets bracket – for female swimmers ages 17 and 18.
Castiglioni was 30.74, a time that would have put her into a tie for – once again – sixth place in the medal final at Worlds.
For a 17-year-old swimmer, the best thing you can ask for is visible progress. To see Castiglioni bounce back from a disappointing semifinal run in Kazan is a great sign for Italy, which looks to compete in a European swimming landscape that grows more crowded each year.
Aptly named to suggest 70% of the earth is covered in water, blueseventy is the world leader in the pool, triathlon and open water wetsuits and swimskins. Since 1993, we design, test, refine and craft products using superior materials and revolutionary details that equate to comfort, freedom from restriction and ultimately a competitive advantage in the water. blueseventy products have instilled confidence in beginners as well as carried world-class athletes to countless Olympic and World victories.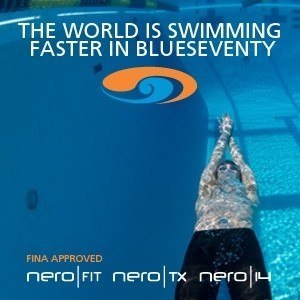 For the latest news and blogs from blueseventy visit www.blueseventy.com.
Twitter: @blueseventy 
Facebook: facebook.com/blueseventy
 Blueseventy is a SwimSwam partner.