Disclaimer: BlueSeventy Swim of the Week is not meant to be a conclusive selection of the best overall swim of the week, but rather one Featured Swim to be explored in deeper detail. The BlueSeventy Swim is an opportunity to take a closer look at the context of one of the many fast swims this week, perhaps a swim that slipped through the cracks as others grabbed the headlines, or a race we didn't get to examine as closely in the flood of weekly meets.
It's not often that a swimmer as accomplished as Katinka Hosszu still has something to prove.
But if you can have a "prove-it" swim as arguably the most successful professional swimmer worldwide, Hosszu found it on Monday at the 2015 FINA World Championships.
Though Hosszu had set and reset multiple world records on the short course World Cup tour (earning a cash bonus for each one), she had yet to crack into the world record books in the long course, Olympic-sized pool.
That is, until Monday. Hosszu's day started out with an odd move for the Hungarian: Hosszu – who has picked up the nickname "The Iron Lady" for her willingness to swim brutal event lineups – actually bowed out of an event before the semifinal. Hosszu was the top qualifier in the 100 back, but chose to sit the event out in semis, presumably saving her energy for the 200 IM final in the same session.
That bold new strategy for Hosszu – you know, being fresh – paid off in a huge way, as Hosszu broke her first-ever long course world record.
The swim was earth-shattering for a whole host of reasons. A clearly-emotional Hosszu celebrated her victory after a season in which she's faced some odd criticisms, most notably, an article speculating that Hosszu was using illegal substances to complete her tough event lineups, despite Hosszu taking and passing at least 17 anti-doping tests in 2014 alone.
The record itself was considered nearly untouchable. Set in the era of the buoyant, rubberized, full-body tech suits, hadn't even been approached in the years since it was set in 2009, and was a record some fans speculated would last a decade or more.
But maybe most importantly for Hosszu, her huge swim is a giant momentum boost, giving her back-to-back world titles in the event, and keeping her at the top of the World one year out from the Rio Olympic Games. With "Long Course World Record" now checked off her career list, Hosszu's trophy case is really only missing one major accolade, and that's an Olympic gold medal.
The onus is now in the rest of the world to catch up to Hosszu by next summer, of the Hungarian will likely be checking that off her list as well.
Aptly named to suggest 70% of the earth is covered in water, blueseventy is the world leader in the pool, triathlon and open water wetsuits and swimskins. Since 1993, we design, test, refine and craft products using superior materials and revolutionary details that equate to comfort, freedom from restriction and ultimately a competitive advantage in the water. blueseventy products have instilled confidence in beginners as well as carried world-class athletes to countless Olympic and World victories.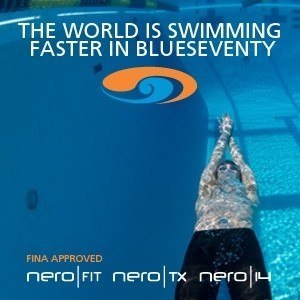 For the latest news and blogs from blueseventy visit www.blueseventy.com.
Twitter: @blueseventy 
Facebook: facebook.com/blueseventy
 Blueseventy is a SwimSwam partner.