This November blueseventy is excited to announce its partnership with UK charity, the Pink Ribbon Foundation, in the fight against breast cancer.
The Pink Ribbon Foundation (Reg. Charity No. 1080839) has a mission to provide crucial funds to UK charities that support those affected by breast cancer, and advance its early detection and treatment.
Until February, blueseventy will be donating 10% from each pink neroTX technical race suit sold on their UK website (www.blueseventy.co.uk) to the Pink Ribbon Foundation, who see that breast cancer charities nationwide benefit from money raised.
Although the campaign is only currently taking place in the UK and Europe, it is blueseventy's hope to see it extended to the US later in the year, whereby the Pink Ribbon Foundation, although a UK charity, would see funds were donated to US breast cancer charities based on the number of pink neroTX bought in the US.
The partnership came about because of the unique way a 13-year-old club swimmer chose to support his mum with breast cancer; he opted to race in a bright pink neroTX. It was blueseventy's nero specialist Becky Jenkins that met parents from his club who shared his story:
"Not many boys dare to wear pink, especially at that age. I was touched by the fact he wanted to stand up on the blocks at swim meets and show the world, and his mum, that he was supporting her. It's an inspiring statement from such a young boy."
She added, "Team England Commonwealth swimmer Tilly Gray is among the swimmer backing the campaign and our hope is that more swimmers will go pink for breast cancer awareness to help us to raise as much money as possible for the Pink Ribbon Foundation."
1 in 8 women will be diagnosed with breast cancer in her lifetime and with over 1,200 Amateur Swimming Association affiliated clubs in the UK, it's likely most people involved in competitive swimming will know of someone, or an entire family, affected by breast cancer.
Lisa Allen from the Pink Ribbon Foundation said: "We're delighted to be partnering with blueseventy. Not only do we hope to raise money for a number of charities, we also want to raise awareness of the importance of a healthy lifestyle in the prevention of cancer.
"A lot children swim competitively through their teenage years and this is brilliant for instilling good exercise routines in their adult life, as well as awareness of the benefits an active lifestyle. Perhaps one of the lesser-known benefits is that it can help reduce the risk of developing breast cancer later life. Hopefully we can make people more aware of the positive impact of swimming for all and to keep more people active for longer in the fight against cancer."
To kick-start their campaign, blueseventy will be giving 25% off pink neroTX with the code POWERFULINPINK during the month of November. Just enter the code at the online checkout.
To find out more about blueseventy or buy a pink neroTX for breast cancer awareness, visit www.blueseventy.co.uk.
Please visit www.pinkribbonfoundation.org.uk for more information on the charity.
About blueseventy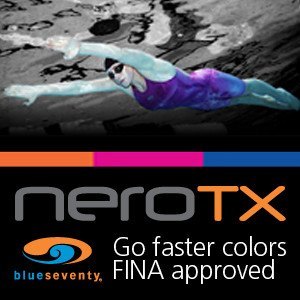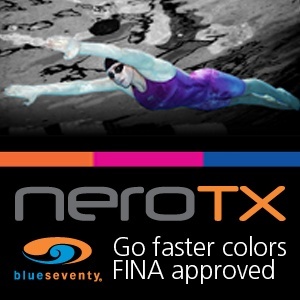 · Aptly named to suggest 70% of the earth is covered in water, blueseventy is the world leader in pool, triathlon, and open water tech suits, wetsuits, and swimskins.
· Since 1993, we design, test, refine and craft products using superior materials and revolutionary details that equate to comfort, freedom from restriction and ultimately a competitive advantage in the water.
· blueseventy products have instilled confidence in beginners as well as carried world-class athletes to countless Olympic and World victories.
Blueseventy is a SwimSwam partner.