Courtesy of Barry Revzin
A now infamous comment in an early live recap post suggested that the NCAAs are overhyped. Leading into the meet, we make all sorts of crazy predictions about what might happen. Katie Ledecky is going to go 1:38/4:22/14:56. Kathleen Baker is going swim a 1:46 200y back. Lilly King is going to give a non-controversial post-race interview. So now that the weekend is over and we have some time to reflect on the crazy swims that did happen, we can attempt to answer the question – was it overhyped? As usual, it depends.
The first place to look might simply be: do swimmers at NCAAs improve upon their seed times? Turns out, typically not. If we compare the better of a swimmer's prelim and finals result to his or her seed time, we find that most swims were worse than seed. In fact, this year's women's meet had the highest improvement rate of the last 7 years: at 41.9%. On the plus side, if we aggregate by swimmer instead of by event, we find that a majority of swimmers do improve in at least one of their events (70.5% of the women this year, also a 7-year high), but very few improve in all of their events (just 12.1%). So from that standpoint, expecting all swimmers to drop buckets of time at nationals is unrealistic. You could even call it… hype.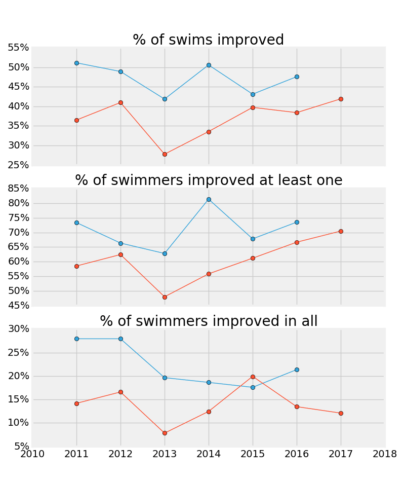 But even if not every swimmer in not every swim improved, how does this 2017 edition of NCAAs compare to 2016 or 2015? In only one individual event, the 200 Breast, was the 8th place time prelims slower this year than it was in 2016. In all but three events (adding in the 100 Breast and 200 Fly), it was the fastest cut we've ever seen. In one event in particular – the 100 Back – the cut has gotten faster every year, dropping nearly 3% in the past 6 years. In 2011, a 53.34 was 8th. This year, that would've finished 40th.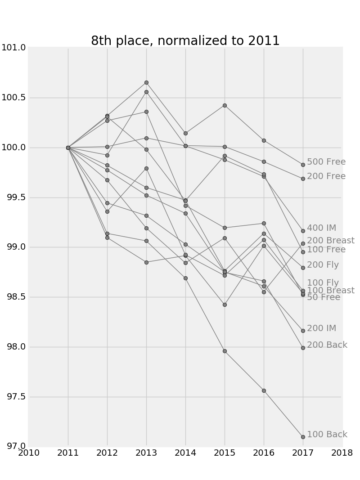 Not every swimmer might improve, but the machine that is college swimming never stops spinning. This year's edition of the fastest meet on earth definitely lived up to that hype. And I already can't wait for next year.