Courtesy: A3 Performance, a SwimSwam Partner. 
A3 Performance is excited to announce the addition of Aaron Greenberg to their strong team of A3 Performers. A recent graduate from Yale University and current Team Elite pro, Greenberg has an impressive resume as a three-time Ivy League Champion and two-time NCAA Academic All-American. Now Greenberg looks to improve upon his successes striving towards 2020.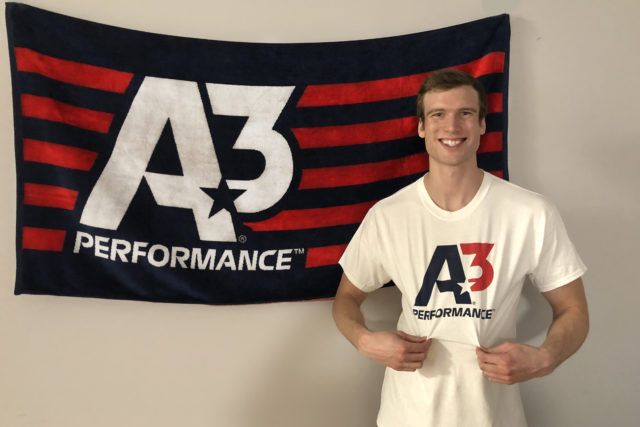 Greenberg's post-graduate journey is inspirational and a bit of a resurgence of his swimming career. After getting pneumonia a week before the 2016 Israeli Olympic Trials and missing a spot on the Olympic Team, Greenberg is more motivated than ever to achieve his ultimate goal of competing at the Olympic Games.
"I have improved every year since I got to college and I have more room to grow. Every day I practice I find new things to work on. I have a drive to prove that I can achieve the ultimate goal of making the Olympics. With David Marsh's help, along with Bob Groseth, John Long, Jeff Dugdale,
and Mike Harris, my strength and conditioning coach, I am confident that I have the coaching necessary to give me a fighting chance of my Olympic dream coming true," said Greenberg of his post-grad journey with Team Elite.
Along with the coaching support, another significant part of Greenberg's second run at the Olympics is partnering with the fastest growing brand of performance swimwear in the world.
"I'm very excited to help A3 Performance continue to expand within the US market, showing the swimming community how well I can swim in their products. A3 Performance's racing suit is the best in the industry, and unlike other companies, their scientific research backs it up. This company,
with its fantastic suit line and revolutionary BODIMAX sleeves, will give me, by far, the best chance of achieving my professional swimming goals."
A3 Performance is proud to have an athlete of Greenberg's caliber on their team. At Yale, Greenberg was a two-time NCAA Academic All-American and Academic All-Ivy his senior year. Now a post-graduate and professional athlete, Greenberg is in a Sales and Trading position for one of the
largest banks in the world. It is obvious to his coaches, teammates, co-workers, and everyone around him that Greenberg has a special drive both in and out of the pool.
"We are very impressed with Aaron's [Greenberg] successes as both an athlete and a professional. With the support of A3 Performance and his exceptional coaching staff at Team Elite, we have no doubt that Aaron's Olympic Dream is well within reach. His determination is inspiring and exciting, and we are looking forward to being a part of his journey to Tokyo 2020," said A3 Performance Founder and CEO Dan Meinholz.
A3 Performance is an independently-owned, performance swimwear company built on a passion for swimming, athletes, and athletic performance. We encourage swimmers to swim better and faster at all ages and levels, from beginners to Olympians.  Driven by a genuine leader and devoted staff that are passionate about swimming and service, A3 Performance strives to inspire and enrich the sport of swimming with innovative and impactful products that motivate swimmers to be their very best – an A3 Performer.


Swimming news courtesy of A3 Performance, a SwimSwam partner.