A3 Performance has inked one of the nation's top sprinters, 21-year old Madison, Wisconsin native Ivy Martin! As a little girl, Martin got started in swimming because of her older sister Ruby. Since her older sister was in the pool and having a blast, Martin couldn't wait to join in on the fun. At only five-years old Martin started her swimming career swimming with the Cherokee Country Club summer swim team, and she hasn't slowed down since!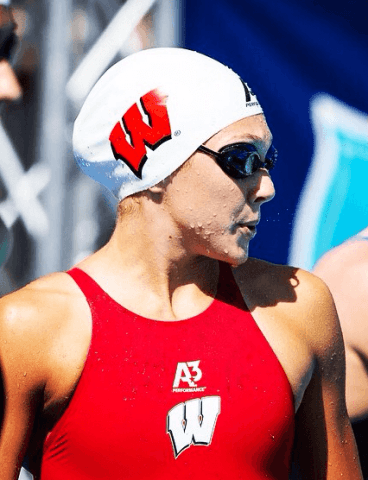 As a high school senior Martin had her fair share of universities to choose from for her college career. Growing up several minutes away from the UW-Madison campus, Martin grew up a Badger fan and when decision time came she couldn't say no to a top Division I swim program, a world-class education, and "the best college sports town" in the U.S. During her tenure at the UW, Martin grew in to the best sprinter the program has ever seen. Martin truly broke out as a fierce competitor her sophomore year when she won her first individual Big Ten title and broke her first Big Ten record in the 50-yard freestyle in a time of 21.84. By Martin's senior year as a Badger she was unstoppable, completing the 2015 Big Ten Championships with a perfect meet, seven gold medals.
This eight-time NCAA All-American recently took a step on to the International scene as well. At the 2014 U.S. Summer Nationals Martin was runner-up in the 50-meter freestyle. Her 24.72 swim earned her a spot on the U.S. National Team and the 2014 Pan Pacific Team. Martin went on to Pan-Pacs to finish 7th in the 50-meter freestyle.
Officially a UW Swimming Alum and a soon-to-be UW- Madison Alum, Martin is taking the next step in her career as a professional swimmer and a partner of A3 Performance.
"I really trust A3's vision. I feel very comfortable racing and training in their gear and I believe their support will contribute to my success," said Martin. "I am looking forward to this new chapter and working with an awesome company!"
Seeing Martin grow so much over the last few years leaves no doubt that she will only continue to impress. With her sights set on the 2016 Rio Olympics, A3 Performance is looking forward to being a part of her incredible journey.
"Ivy is a great person and incredibly talented. We are really excited about partnering with Ivy because we know she will be a great representative of A3 Performance.  She is an inspiring teammate and has the demeanor of a Champion," said A3 Performance CEO Dan Meinholz.
With all of the success she has had at UW, Martin plans to continue her training under Head Coach Whitney Hite in Madison, "I have come so far, but I know that I still have areas to improve in and this program will get me to where I need to be next summer" said Martin.
Going in to an Olympic year, A3 Performance is enthusiastic and positive about Martin's upcoming successes, "I [Meinholz] have watched Ivy develop for years and am excited about her being in A3 for her greatest performances yet!"