The Hive powered by RITTER is a treasure trove of resources for swim coaches. Pick from a host of categories based on what topic you want to learn more about. From the introduction "Swim Coaching 101" course to Swim Workouts & Season Planning or even get really specific with videos related to high school only swim coaches.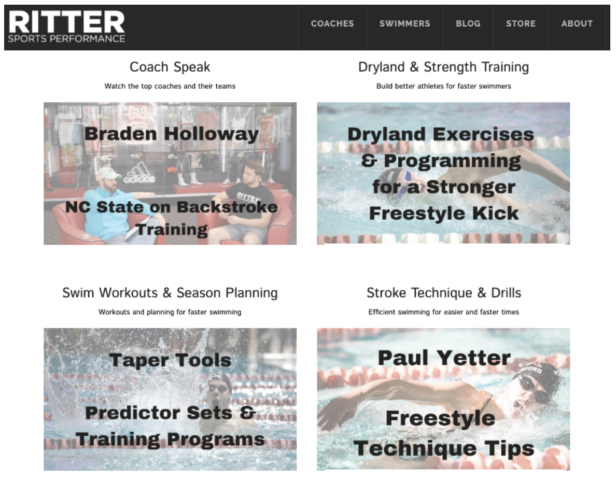 The Hive is the most comparable thing to what you'd get if you designed a Netflix specifically for swim coaches who are looking to learn from the best coaches in the world.
But just like your Netflix account – you might end up with too many options on your list or que. What do you watch now and how do you find what you really want to view, especially if it's a new topic you're not well versed in?
That's what we knew was the missing piece to truly unlocking the potential of The Hive as the #1 online resource for swim coaches.
It's why there's now a powerful "Search The Hive" tool for members of The Hive.
But this isn't just a simple search tool that just allows you to go through titles or tags of all the videos.
"Search The Hive" actually searches through EVERY WORD spoken in the entire video transcript!
What this allows a coach to do is type in any specific key-term/topic or even phrase and it will then search not just titles or tags of videos but THROUGH all the videos in The Hive.
You can then click to the exact moment in that video where your key-term was mentioned. So, if you don't have time to watch an hour-long video but you know there's a topic within the video that you want to learn about you can now save time but still dive into that topic.
Watch it in action:
So, the next time you're in The Hive and you want to learn how to best write a "stamina practice" for your swimmers, this video clip will be one of the first to pop up:
Need help with your communication and relating to athletes? Here's a video that populates in the Search The Hive results list:
Stop wasting time and effort scrolling through Facebook or searching YouTube for less than quality coaching resources. The Hive is your one stop place for the best crowd-sourced swim coaching resources. Learn from the best in The Hive!
Are you ready to do something tangible, structured and get accountability in continually improving as a swim coach?
RITTER Sports Performance helps swimmers go faster and coaches get better, worldwide. Through our online resources on strength training, stroke technique, swim-training, race analysis or nutritional coaching–RITTER is ready to help you take your swimming to the next level. Are you?
CONNECT WITH RITTER SPORTS PERFORMANCE:
Ritter Sports Performance is a SwimSwam partner.