FROM ANDREW CHADEAYNE: I have been swimming for thirty years.  Until last year, I spent almost every day of my life chlorinated – literally covered in a thin layer of chlorine.  Like our swimming heros, I thought that swimming required smelling like chlorine:
When distance queen Janet Evans came back to the sport, her children noticed the smell.  Janet recalls, "I came home the other day and my daughter said, 'Mommy, you smell of chlorine.' "
Michael Phelps recently told reporters that chlorine makes his hair feel "dead."
Recently, I solved swimmers' chlorine problems.  Rinsing off with SwimSpray neutralizes chlorine immediately after swimming.  Presently, the only downside seems to be that it works too well.  Unfortunately, now some parents don't believe that their kids ever got into the pool unless they "wreak of chlorine."
As an age group swimmer, I swam at the Boys' and Girls' Club of Northern Westchester for the Marlins.  The Club provided a fantastic swimming program with only an old, 4-lane pool.  Notably, while there wasn't much lane space, there was plenty of chlorine.
ANDREW CHADEAYNE, during his age group years: 
As a kid, I always smelled like chlorine.  My hair and skin oozed chlorine.  But I loved the smell because it reminded me of swimming.  I also took pride in my distinct fragrance.  During gym, other kids would tell me that I wreaked of chlorine.  I enjoyed explaining that I smelled like chlorine because I trained at 5 am while they were in bed.
Even though I loved the smell of chlorine, I hated the effects of chlorine. I had dry, itchy skin and bleached, greenish, crunchy hair.  The barber would notice the smell right away.  "You must be a swimmer," she'd say.
I tried all of the swimmer's shampoos and later experimented with combinations of baking soda, soda water, beer, tomatoes, pickle juice, etc..  At one point I tried taking two showers after practice – one at the pool and then a second shower when I got home.
Nothing worked.  Eventually I simply gave up on getting rid of the chlorine.  I think I also became accustomed to having dry skin and dead hair.
When I first invented SwimSpray, I sent a case to my old coach, David Ellinghaus, at the Boys' and Girls' Club.  Later I called to see how the kids liked it. All of the Marlins agreed it worked.  Even the parents notice that they chlorine was gone.  One carpool mom accused her kids of skipping practice: "If you went to practice tonight, then why don't you all smell like chlorine?"  I never saw that coming!
Parents – please rest assured that just because your kids don't wreak of chlorine, this does not mean that they skipped practice.  With SwimSpray, swimmers can easily rinse the chlorine off after practice instead of walking around covered in it.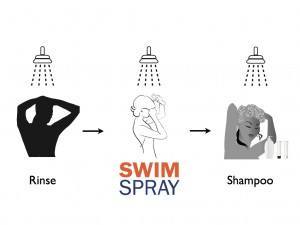 Dr. Andrew Chadeayne is a Ph.D in Chemistry, Master Swimming National Champion, and the inventor of SwimSpray. Follow him on Twitter @swimspray and fan him Facebook.