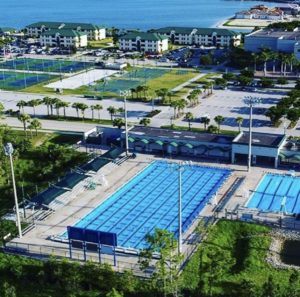 Improve your skills at the most unique camping experiences in the country.
Eagle Swim Camps offer the most unique camping experience in the country. Eagle Swim Camps, on the campus of Florida Gulf Coast University take place in beautiful Fort Myers, Florida. Campers will not only enjoy our state of the art Olympic sized pool, but also the beachfront at beautiful Lake Como, home of USA Swimming's Open Water National Championships.
Eagle Swim Camps will offer two options for its campers. An overnight and day camper option. Each camper will receive a free camp t-shirt, swim cap, have all meals provided, while on campus, as well as have a once in a life time experience interacting with elite athletes.
 Stroke Technique Instruction
 Improving Racing Turns
 Enhancing Start Efficiency
Rock wall
Beachfront Luau
Free Camp Shirt, Cap and Water bottle
Eagle Swim Camps are led by FGCU Head Coach, Dave Rollins. Rollins has over 10 years coaching experience who coached a 2016 Olympian, FINA World Championship Athletes, NCAA All-Americans as well as numerous collegiate conference champions, high school All- Americans and is a 2-time CCSA Conference Coach of the Year. He was an NCAA Champion, 9-time collegiate All-American and a member of the University of Arizona Athletics Hall of Fame.
Rollins will be joined by members of the 9-time, CCSA Conference Champion FGCU Eagle swimming team and coaching staff. Camps will focus on teaching, refining, and reinforcing elite swimming technique. Campers will walk away from camp with a deeper understanding of their strokes as well as their starts, turns, and finishes.
Eagle Swim Camp Technique Week 1
Featuring Olympian Shannon Vreeland
 06/06/2020 – 06/10/2020 ~ Saturday – Wednesday
Registration Ends: 06/10/2020
$499.00 – $599.00 | 
FGCU Aquatics Center
10501 FGCU Blvd South, Fort Myers, FL 33965Ages: 8-18
Eagle Elite Training Camp
Featuring Olympian Garrett Weber-Gale
 06/10/2020 – 06/14/2020 ~ Wednesday – Sunday
Registration Ends: 06/14/2020
$499.00 – $599.00 | 
FGCU Aquatics Center
10501 FGCU Blvd South, Fort Myers, FL 33965Ages: 12-18


Eagles Swim Camps is a SwimSwam partner.