2018 COMMONWEALTH GAMES
Thursday, April 5th – Tuesday, April 10th (swimming)
Optus Aquatic Centre, Gold Coast, Australia
Prelims at 10:30am local (8:30pm previous night EDT)
Finals at 7:30pm local (5:30am EDT)
Australia continues to lead the Commonwealth Games medal table through 4 days of competition, but the nation of Canada made some headway courtesy of multiple medalists on the Gold Coast.
First for for the host nation, a sweep of the men's 50m backstroke with Mitch Larkin, Ben Treffers and Zac Incerti paired with a sweep of the women's 50m butterfly with Cate Campbell, Holly Barratt and Maddie Groves hauled 6 medals into the Aussie total, helping bring it to a whopping 45 through 4 days.
16 of those are gold, with today's first place finishes for the Aussies coming in the aforementioned sprint back and fly events, but also in the men's 4x200m freestyle relay. Lakeisha Patterson also stood atop the podium in the women's S9 100 freestyle.
For Canada, a 1-2 punch in the women's 200m backstroke led by Kylie Masse and Taylor Ruck continued their impressive swim streak, while a pair of Canadians also placed in the women's 200m IM. Behind English winner Siobhan Marie O'Connor, Sarah Darcel and Erika Seltenreich-Hodgson captured silver and bronze for the Maple Leafs to help their nation's medal total carry them into 3rd place overall.
Duncan Scott of Scotland became his nation's first-ever 100m freestyle Commonwealth champion and the 20-year-old also helped give Scotland bronze in the men's 4x200m freestyle relay.
Ever-threatening Chad Le Clos added another piece of hardware to South Africa's kitty, tying 2016 Olympic champion Kyle Chalmers for silver in the 100m free behind the aforementioned Scott.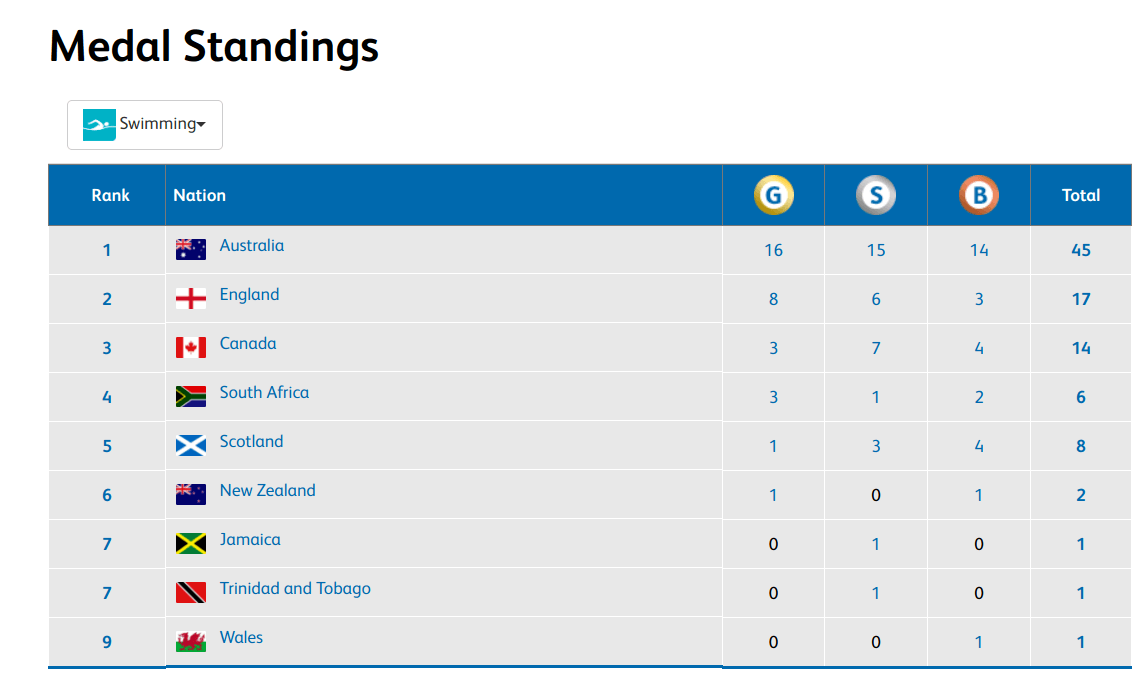 Medal Table courtesy of gc2018.com.