Come and train for a weekend under 2016 Women's Olympic Head Coach David Marsh, along with SwimMAC Team Elite, and the rest of Team Elite's exceptional coaching staff!
SwimMAC Team Elite is hosting this camp as a fundraiser for Team Elite's journey to their respective Olympic Trials leading up to Rio this summer.
There are two camps being held: one camp is open to age group swimmers who are between the ages of 10 and 21 years old, and the second camp is a Masters Camp for any swimmers over the age of 21. Parents/Spouses are encouraged to come and watch their swimmers get a behind the scenes look at the training and development of one of the best programs in the world.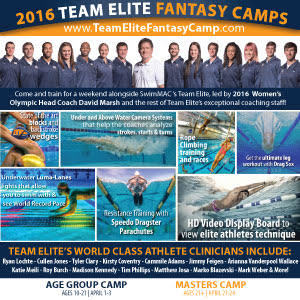 Swim sessions will be held throughout the weekend with this exceptional coaching staff:
David Marsh – 2016 Women's Olympic Head Coach & SwimMAC Team Elite Head Coach
Jeff Dugdale – Director of High Performance & Queens University Head Coach
Bob Groseth – 2015 Pan Am Coach & SwimMAC Team Elite Assistant Coach
Kajevic Kajo – Team Elite Assistant Coach and International Consulting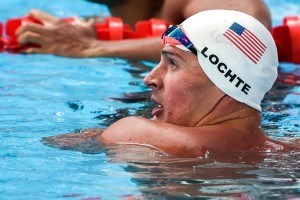 SwimMAC's World Class Athletes, also known as Team Elite, will also be in attendance to offer their knowledge and experience for those swimmers attending the camp.
Ryan Lochte, Cullen Jones, Tyler Clary, Katie Meili, Kirsty Coventry, Cammile Adams, Tim Phillips, Arianna Vanderpool Wallace, Jimmy Feigen, Roy Burch, Madison Kennedy, Matthew Josa, Marko Blazevski, Mark Weber & more!
Not only will attendees get to spend the weekend with some of the best and most well-known swimmers in the world, but they will also get to watch how they train, swim in the same facilities, and experience the life of a Team Elite athlete preparing for the Olympic Games this summer! Attendees will be exposed to the best training equipment available to swimmers today and out of water lessons from the Team Elite athletes. Autographed memorabilia from the entire staff and all of the Team Elite athletes will be given to participants. Attendees will also be given an opportunity to hold a Gold Medal and hear the personal stories that went along with them, as well as what it feels like to represent your country at the highest level of athletics.
Q&A:
Who can attend?
Any age group, club, college, or high school swimmer is allowed to attend. We recommend the athletes have some experience in competitive swimming. Participants under the age of 18 must be accompanied by a parent or guardian. All participants must provide their own transportation. Observers will be accompanied by a SwimMAC Team Elite staff or athlete for questions and explanations during the training process.
What does the money raised go towards?
The proceeds will benefit SwimMAC's Olympic Trials qualifiers and fund the team's preparation and travel to the 2016 Olympic Trials in their countries.
Where is the Camp?
The camp will be in Charlotte, North Carolina. The training facilities will be Queens University and Charlotte Latin School. our website has a map of hotels in the immediate area.
When is the camp?
The camp will be held April 1st – 3rd. We recommend getting in on Thursday evening (3/31) when SwimMAC will host an Opening Ceremonies at 7 pm to get everyone ready for the weekend. We will hand out the weekend's itinerary, goodie bags, and a list of recommended restuarants. We will introduce our coaching staff there and you will meet your guides for the weekend.
COST: $2016.00

Team Elite Fantasy Camp is a SwimSwam partner.