YMCA of the Triangle Area (YOTA)'s Chris Kohut has verbally committed to UNC-Wilmington. Kohut specializes primarily in the 100 and 200 freestyle events, and at the 2014 short course YMCA Nationals tied to win the B-final in the 100 free with a 45.81. His real value, however, has tended to come as a relay swimmer, as he has been part of relays which have set three National Age Group Records: 15-16 200yd Free Relay, 15-16 200m Free Relay (both in 2013), and 17-18 200m Free Relay, set in Indianapolis at this past summer's YMCA Nationals. Kohut was also a member of the YMCA National-record -breaking relay in the 800 freestyle relay at that same meet.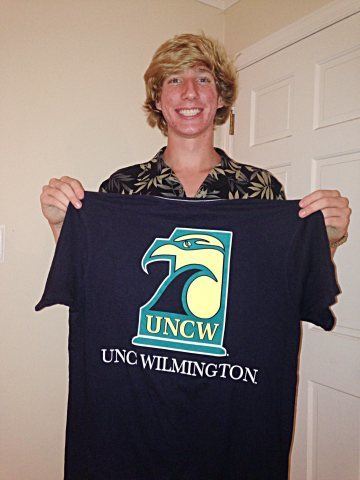 Top Times (yards):
50 free – 21.52
100 free – 45.81
200 free – 1:40.44
100 Breast – 1:00.03
Kohut says:
"I knew I wanted to represent my home state of North Carolina during my college career, and I've always dreamed of living near the ocean. I loved UNCW's beautiful campus and the team spirit I experienced there was awesome. It felt like I was already a part of the team. I'm excited to help Coach Memont build upon UNCW's conference dynasty, and also have the opportunity to work with (former YOTA Assistant Director of Competitive Swimming) Nick Walkotten again."
Kohut also swims for Millbrook High School, and is a school record holder in the 50, 100, and 200 free. He is the 2014 Cap-8 Conference Champion in the 100 free, and finished 4th and 6th in the 100 and 200 free at the state meet. Kohut also anchored the school's 200 and 400 free relays and helped Millbrook to a 6th place finish at the 2014 NCHSAA 4A State Championships.
Kohut would like to especially thank Coach Chad Onken, the YOTA coaches, and the YMCA of the Triangle Area for their support; his former coaches in Illinois, where he first began swimming competitively; and his family for their love and encouragement.