USA Swimming has published the organization's first-ever Hispanic/Latino Cultural Inclusion Resource Guide that will provide educational resources and opportunities for community engagement and programming. It is the continuation of a series that began with the African-American Resource Guide and will include similar handbooks focused on LGBTIQ, Asian-American and Native American communities.
This is one of many projects the organization's Diversity & Inclusion team uses to create a culture of inclusion and opportunity for people of diverse backgrounds, including but not limited to race, age, income, ethnicity, religion, gender expression and sexual orientation. By providing educational tools at all levels via staff, LSCs, coaches and athletes, USA Swimming is creating deeper relationships with and providing meaningful resources to underrepresented communities.
"The Hispanic/Latino demographic is the largest ethnic minority in the U.S. and the number of Hispanic/Latino USA Swimming members has grown 77 percent over the last 10 years," said Juan Caraveo, USA Swimming Diversity & Inclusion Consultant. "We're providing tools and resources to cultivate diversity within the sport and show how swimming is inviting to everyone."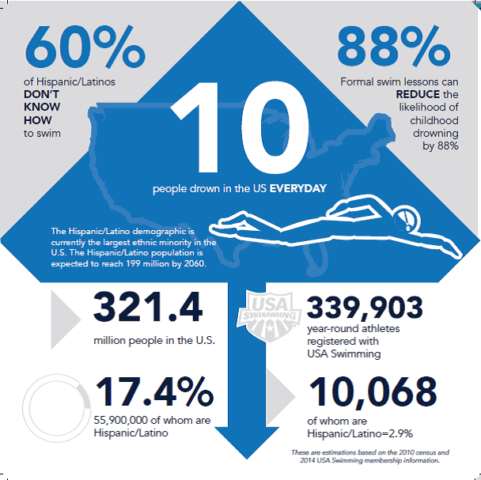 The Hispanic/Latino Resource Guide highlights various aspects of USA Swimming programming:
• The Camp System: Several national, zone and local Diversity Select Camps bring high performing and up-and-coming athletes from underrepresented communities to camps, which include pool and classroom sessions with a focus on leadership.
• Diversity Coach Mentorship: A mentorship program that focuses on matching diverse mentees with experienced coaches.
• Community Swim Teams: Partnerships with diverse communities around the country in order to increase the diversity of our membership. A co-op with the New York City Parks & Recreation provided USA Swimming membership to 600 athletes and 50 coaches.
• Cultural Resources: USA Swimming's Diversity and Inclusion Resource Page has articles and materials to help LSCs and clubs develop multi-cultural programming at the grassroots level
• Outreach Membership: USA Swimming offers an Outreach Membership program that provides a discounted membership fee to need-based youth in the community. http://www.usaswimming.org/diversity
Hispanic/Latino Resource Guide can be found here: http://goo.gl/8JX7eY
In 2010, USA Swimming Foundation and the University of Memphis released research that identified key barriers to urban minority group participation in swimming. The study revealed that fear, swimming ability, physical appearance and access to facilities actively prevent minorities from engaging in the sport. The study also revealed that 60 percent of Hispanics don't know how to swim and formal swim lessons can reduce the likelihood of childhood drowning by more than 80 percent.
With the creation of the Cultural Inclusion Resource Guides, the Diversity and Inclusion Team is providing tools that will foster an inclusive environment and improve representation at all levels of the sport.
About USA Swimming
As the National Governing Body for the sport of swimming in the United States, USA Swimming is a 400,000-member service organization that promotes the culture of swimming by creating opportunities for swimmers and coaches of all backgrounds to participate and advance in the sport through clubs, events and education. Our membership is comprised of swimmers from the age group level to the Olympic Team, as well as coaches and volunteers. USA Swimming is responsible for selecting and training teams for international competition including the Olympic Games, and strives to serve the sport through its core objectives: Build the base, Promote the sport, Achieve competitive success. For more information, visit www.usaswimming.org.
Swimming News release is courtesy of USA Swimming.