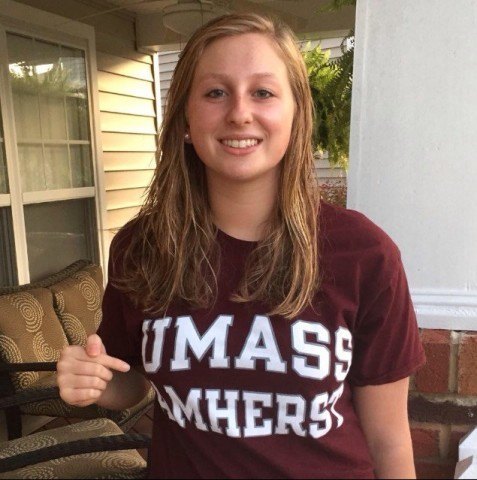 Ashlyn Butkowski of the TAC Titans in North Carolina has verbally committed to the University of Massachusetts, where she plans to study kinesiology in preparation to go on for her doctorate of physical therapy.
Butkowski is primarily a distance freestyler who has shown potential in open water. At the 2013 U.S. National Championships, she placed 19th in the 5km race when she was just 14 years old. Only one other 14-year old finished as high in that hour-long race
The following year, she moved up to the more competitive 10k, where she placed 25th.
There's as-of-yet no open water swimming in the NCAA, but Butkowski's pool times will also have an impact for the Minutemen.
---
Best times in yards:
200 free – 1:53.27
500 free – 4:55.63
1650 free – 17:00.28
---
In the 500 and 1650, Butkowski would've ranked in the top 8 in the Atlantic 10 Conference last season.
"I fell in love with the school and immediately felt at home there," Butkowski said. "Both the team and the coaches were so supportive of me, and I know I will get a great education and have an incredible swimming experience. I couldn't be more excited!"
Her head coach with the TAC Titans, Raz Cuparencu, says he's most impressed by her leadership and determination. "Ashlyn's determination and persistence has gotten her where she is. She's an integral part of our team, always encouraging her teammates and leading by example. This girl is the one who will come from behind in a race to win."
Butkowski is on the young end of her class, and ages up every summer after the end of the long course season. That means she just turned 17, and won't turn 18 until right around the time she arrives on campus in Amherst.
UMass were the runners-up at last year's A-10 Women's championship meet, placing just 88 points behind Richmond. In the three individual events listed above, where Butkowski will likely contribute, Richmond outscored UMass 30-13 (200 free), 34-16 (500 free), and 45-17 (1650 free), and all 46 of the points scored by UMass in those events graduated.