Competitive Intelligence of Media Leaders (MIN/Mr. Magazine) names SwimSwam Magazine one of the 30 Hottest Launches of 2016. Criteria for making the 30 Hottest list included:
Design
Creativity
Audience reaction
Industry reaction
Many thanks to MIN for this honor.  See the complete list of the 30 Hottest Launches here.
It's that time of year again, time to review the successes, disappointments, drama, and to spotlight the history-makers in our sport.
The 2016 Olympic Year in Review ships in November. We are designing the final features now.
We agonized over who to put on the cover and ultimately went with Michael Phelps. We had to. His contribution to swimming is immeasurable, and he is retiring. So, Phelps it is.
A FEW SPECIAL FEATURES IN THIS ISSUE INCLUDE:
Michael Phelps Farewell section
a massive Year In Review
history-maker spotlights 
a U.S. Olympic Coach Debrief
the Top 20 Age Groupers of the Year
and data features (top secret)
As always, SwimSwam Magazines are big and this issue will be no different.  The 2016 Olympic Year in Review will come in at 172 pages.
Driving deep on this issue, we honor all of your favorite swim stars, Katie Ledecky, Ryan Murphy, Maya DiRado, Simone Manuel, Penny Oleksiak, Adam Peaty, Missy Franklin, Joseph Schooling and many, many more.
If you have not subscribed, you can here.
WHY TO SUBSCRIBE?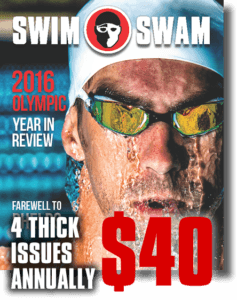 With your subscription today you get the:
2016 Olympic Preview as a digital magazine
2015 Year in Review (with the Michael Phelps cover) as a digital magazine
2016 Swimsuit Issue (with the Ryan Lochte cover) as a digital magazine
2016 College Preview (Katie Ledecky cover) as a print & digital magazine
2016 Olympic Year in Review as a print magazine (a very big issue)
2017 Swimsuit Issue as a print magazine
2017 Summer Preview (aka World Championship Preview) as a print magazine
All in, you will receive over 700 printed pages of magazine with your subscription, and an additional 700+ pages in digital magazine content.
If you are already a subscriber, go to swimswam.com/magazine/digital-access, type in your email/password and view the digital magazines.
If you haven't subscribed, you simply don't know. SwimSwam Magazine is not only higher quality, you feel it the instant you touch the magazine. The texture is amazing, and you'll love how heavy it feels in your hands. Issues are nearly a pound, the type of magazines you will want on your coffee table.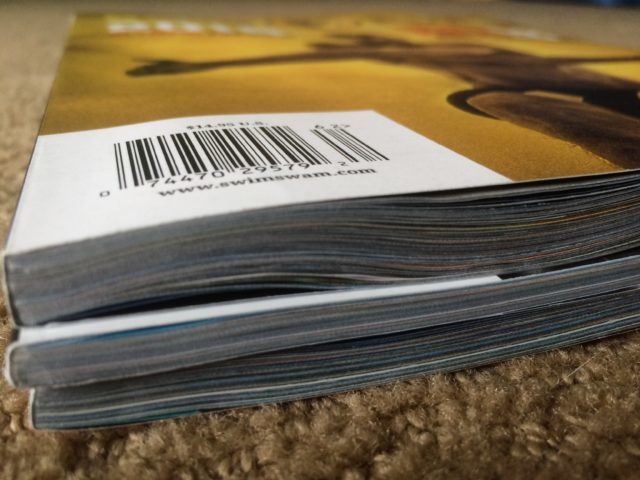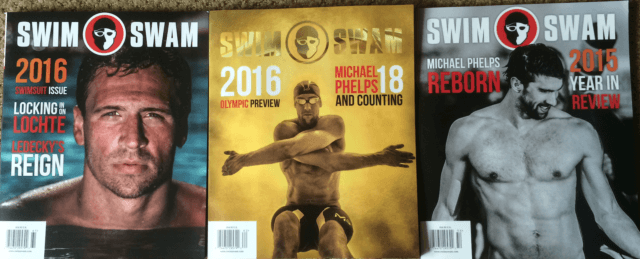 To knock you over with each issue, producing a must-have magazine that feels like a collector's item.
To produce unique features never before seen in swimming media.
To present swimming like it should be, the greatest sport on earth.
At SwimSwam, we love the sport, and we love changing the paradigm of how it's presented. For far too long swimming magazines have been the same, and it our goal to deliver something spectacular, a magazine you will be excited about getting every single time a new issue is released.
AB