Courtesy of Evan King
HQ: Belleville, Ontario Canada
Inventor: Adjustable Resistance Kickboard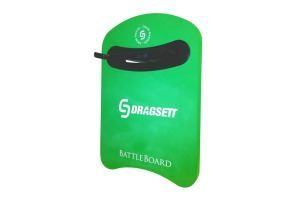 I swam competitively from ages 9 to 18 and enjoyed every minute of it. I came up with the idea for the Ajustable Resistance Kickboard while I was doing recreational lengths at the Etobicoke Olympium in Toronto. I was doing a kick set and said to myself that it would be nice if there was a way to have a kickboard that would be able to adjust resistance while kicking. That is when I started on my new adventure of creating a product. I originally just bought a kickboard and cut a gap in the front of the board and slid a piece of plastic in it just to see if the concept would even work. I literally had no idea what to do from there, so I did a lot of research and contacted some friends and family of mine that might be able to help me. With a ton of support and a big learning curve, we have developed it into the product it is today–a highly functional and durable training tool that increases swimmers leg power and stamina.
I have tested it myself along with 100 more people ranging in swimming experience from beginner to advanced levels, and everyone felt the burn in their legs. I have not had a bad review about the product so far. With the success of our product we hope to expand into becoming the known brand of resistance training products.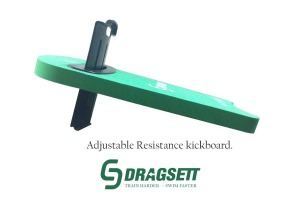 The 2 in 1 functionality allows swimmers to not only use it as a traditional kickboard but simply by adding the blade it turns into a successful resistance training tool. Another great tool for coaches to do interval sets with their teams. The other great thing about this product is that it prevents injury to the swimmer by keeping the body position aligned and proper, there is no stress on the neck, back or shoulders.
Our company is dedicated to swimmers of all levels and will take all feedback seriously. We want out product out there improving the swimmers skill level, and we will deal with individuals and team needs as they come in. We have many other products in the works right now, and we intend on being the leading brand for resistance training in the world someday.
As a start-up company we know there are going to be hurdles to overcome, especially with the major companies like Speedo and Finis. However, we believe in our Adjustable Resistance Kickboard and our many other products that we are working on. We will connect to the swimmers/coaches on a personal level and try to meet everyone's needs. We believe that swimmers/coaches need a new face in the swimming world. One that is more personable and brings new technology to the pool. With your help we can achieve that goal. Be a part of the growth and we will help you succeed. I hope everyone has a great swimming year and we hope to hear from you soon.
Thank you,
Evan King
CEO of DragSett Inc
Samples are available for teams, so just contact me through email or go to our website and fill out the request.
Motto: Train Harder…Swim Faster
Mission Statement: Assist all levels of swimmers and coaches by developing state of the art and scientific training tools that give the competitive edge.
Goal: To become an international brand that specializes in training and developing swimmers/coaches to their maximum potential.
 Swim Training / Swimming Gear News is courtesy of Evan King in conjunction with Team Aquatic Supplies, a SwimSwam partner.