Any class of 2014 seniors who wish to announce their commitments, please email [email protected].
The Georgia women, trying to keep pace with the impressive early class that Stanford is developing, got their 2nd verbal commitment on Wednesday, as class of 2014 swimmer Stephanie Peters from the Marietta Marlins and North Paulding High School joins Megan Kingsley as very early verbal commitments to the defending champs.
Peters will join her older sister Courtney, who was an NCAA qualifier last year as a sophomore for Georgia.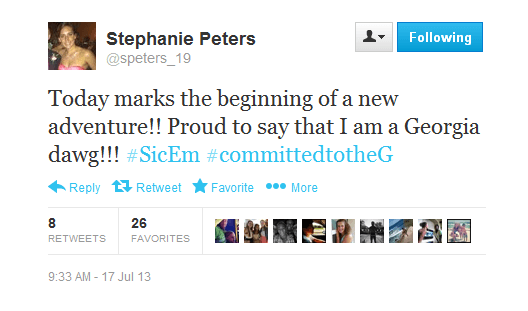 The 5'8″ Stephanie is a very talented distance swimmer, coming out with bests of 1:49.5, 4:45.4, and 16:17.2 in the 200, 500, and 1650 yard freestyles. Given Georgia's recent and historical success in those freestyle events, she should thrive there in Jack Bauerle's program training with the likes of Amber McDermott, who was 4th in the 1650 and 2nd in the 500 at last year's NCAA Championships, and Shannon Vreeland, who was 3rd in the 500.
Georgia didn't graduate a lot of swimmers after their NCAA Championship run; but all three of their graduating seniors were huge contributors. The list that has exhausted their eligibility includes Olympic Champion and Honda Award winner as Swimmer of the Year Allison Schmitt, USA Swimming World Championship team member Megan Romano, and All-American Kelsey Gaid.
It appears as though the Bulldogs are being very aggressive in redistributing that scholarship money early in the class. One would imagine with a relatively limited supply, and a high demand as the champions, has something to do with how early we're seeing these commits come.