Swimmers smell like chlorine.  Right?  At least that's how it's been for the since I started swimming.  But, recently Andrew Chadeayne has solved this problem by inventing a method of removing chlorine from hair and skin with vitamin C.  Now he is running a company called SwimSpray, which sells the product.  Andrew is also a lifetime swimmer (Princeton Tigers class of 2001), doctor of chemistry, inventor, and patent agent.  He's also a blast to hang out with, but that's another story.
I recently caught up with Andrew to see how things are going with SwimSpray.  Here's what we talked about:
MEL: How was 2012 for SwimSpray?
ANDREW: It was a great year.  I think SwimSpray is better in every way than it was a year ago.  On paper, I guess you could point to our adding twenty new retail partners and increasing on-line sales.  But, its more than that.  We are beginning to reach outside of our social circles.  I think it's exciting when people we don't know contact us about chlorine.  We have never met these people yet we are responsible for making their hair and skin healthier.  And, every now and then, some guy calls us to thank us for getting the chlorine smell off his girlfriend.  Those are fun calls.
What would you consider SwimSpray's greatest success?
Honestly, it's hard to say something sexy.  Overall, I still think that SwimSpray's best selling point is that it works.  That's a pretty big deal, so it's hard to point to something more exciting.  This year I think our greatest accomplishments were made internally in areas that are hard to single our for praise.  We are better organized and more efficient.  Our COO, Peter Wong has a knack for getting things done and keeping projects on track.  That's made a real difference across the board.
What's your greatest challenge?
That's easy.  Our greatest challenge remains convincing people that SwimSpray works.  Swimmers are ravaged by chlorine.  They don't wash it off properly, so it eats away their hair and skin all day and night.  You can call it chlorine burn, chlorine itch, rash, allergy, whatever….  You are covered in chlorine.  That's why you smell like chlorine despite showering.  That's why your hair is dry and damaged.
We are the only product that works to fix this this. (Here are some testimonials.) Your hair and skin will be healthier if you use our product.  Period.  It dumbfounds me that people wouldn't use this.  I mean, why wouldn't you want to get the chlorine off of you?  As a parent, wouldn't it concern you that your kids reek of chlorine?
Why do you think people are slow to believe that SwimSpray works?
I think it's like the boy who cried wolf–so many "swimmers shampoos" have claimed to get rid of chlorine.  And they all suck.  So, lots of swimmers won't trust us when we say we have solved their chlorine problems.  We've even posted some videos showing that SwimSpray works.
I think people just need to try the product.  They need to feel what it's like to get the chlorine off.  That's actually funny too because…once they try it…they tell us they can't believe SwimSpray works.  Then you just shake your head and wonder how you could be any clearer.
What are you doing to market the product?
Since we don't have a massive advertising budget, we have been trying to spread awareness with social media.  We have been using Facebook and Twitter.  And we have been thankful for getting some attention from other media outlets like SwimSwam News.
How's the social media marketing going?
Well, it's been a learning process.  This year we were really fortunate to get a few informal celebrity endorsements: Ricky Berens gave us a shout out on NBC; Jenna Randall listed us as a beauty secret in Sky Magazine.
What do you see as the next logical step for SwimSpray?
Well, we are not a typical company.  Truthfully, we are a bunch of swimming buddies who all have day jobs.  I don't know if we have a rigid "next step" except to keep getting better.  Working on SwimSpray has been like a group project for all of us.  I think that helps us keep things in perspective.  Sure, we want the company to succeed–but we also want to have fun and do good.  So, I'm not sure what we will get ourselves involved with this year.
What sort of good things does SwimSpray get involved in?
Last year we supported seven U.S. Masters events.  We also sponsored a few charitable events like Sienna's Splash and Swimming St. Clair.  And, recently we founded a masters swim team.  I guess you could say that we pay more attention to outreach than you would expect for a company of our size.
If you could have one thing for the company this year, what would it be?
Well, like I said, we're primarily looking for help spreading our message.  We'd love to connect with mainstream media prior to the summer.  So, if you run into Oprah please tell her about SwimSpray.  Or, more realistically, we are always looking for bloggers who would be willing to review our product.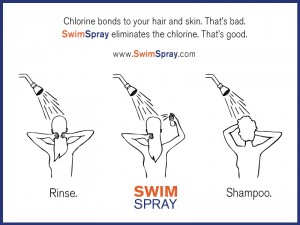 About SwimSpray: SwimSpray was invented by Dr. Andrew Chadeayne, a former Princeton University swimmer and chemistry Ph.D. from Cornell University. Tired of smelling like chlorine after his swimming workouts, Andrew set out remove chlorine from hair and skin ( SwimSpray works where so many other chlorine-removal products (e.g., swimmers' shampoos) have failed previously because SwimSpray's all-natural vitamin C based formula breaks this bond, neutralizing the chlorine, and allowing it to be washed away with your favorite soap or shampoo. Follow him on Twitter @swimspray and fan him Facebook.
SwimSpray is a SwimSwam partner.