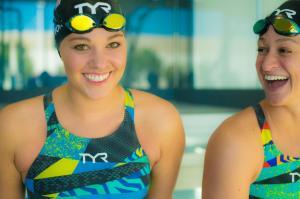 Chloe Sutton has officially retired from swimming according to her sports manager, David Arluck.
In a post on his Facebook page, Arluck said:
Today is a very special day for Chloe Sutton. It is her birthday and she is officially announcing her RETIREMENT from competitive swimming. Chloe is the only American woman or man to compete in both Open Water and in the pool at the Olympic Games. She made her first Olympics at just 16 years old.
Sutton swam at the elite level for nearly a decade.
It all started in open water swimming, where she claimed her first international gold at the 2006 Pan Pacific Swimming Championships in the 10k. Sutton quickly followed up with another gold at 2007 Pan American Games in the same event. In 2008, she made her first U.S. Olympic Team in open water.
By 2009, Sutton added pool competition to her world-class career, making the 2009 U.S. World Championship Team in the 400 and 800 meter freestyle.
In 2010 Sutton won her first internationl medals in a pool competiton, silver in the 400 meter freestyle and gold in the 800 meter freestyle at the Pan Pacific Swimming Championships.
Sutton made history in 2012 at the U.S. Olympic Trials when she made her second U.S. Olympic Team in the 400 meter freestyle. With her 2008 berth in open water, Sutton became the first American to compete in open water and pool competition at the Olympic level.
Follow Chloe Sutton on Twitter here.
Book Chloe Sutton on a Fitter and Faster Swim Clinic here. 
This is a Gold Medal Media production presented by SwimOutlet.com. Host Gold Medal Mel Stewart is a 3-time Olympic medalist and the co-founder of SwimSwam.com, a Swimming News website.
RECENT EPISODES