Courtesy of Annika Cho
The first whistle blew, I stepped beside the block; there were butterflies in my stomach. With the second whistle I jumped in the water – it send goosebumps covering my skin. I grabbed the wall: "This is it!" I thought to myself. "Take your mark." I pulled myself close to the wall – the crowd got quiet. "BEEP." "Go" my teammates cheered.
I focused all my momentum on getting off the wall. "SPLASH." "Five butterfly kicks, go into flutter and move your arms" I told myself. My arm pulled and my legs kicked; I got to the flags faster than expected. "1, 2, 3, 4, 5 flip and turn. As I pushed off the wall, I thought about how excited I am to be considered to swim backstroke in the State Championship Relay.
At the 15 meter mark I got tired, my arms got heavy and slowed, my legs ached and my throat burned. I thought about giving up, not trying and accepting that I could not do it. Just then, my eyes drifted towards my coaches Drew, Molly and Gloria jumping up and down on the side of the pool. They had spent hours of training me, encouraging me and teaching me to accept pain. After what they did for me, I knew I could push through. I pushed, pulled and kicked every drop of water my exhausted body could handle…the flags passed. I did not realize I had finished until Mackenzie's legs flew over my body. Slowly, with my last bit of strength I climbed out of the pool. My team hugged me as I tried to regain control over my breath. I looked at the time – I could not believe it: PERSONAL BEST!
I thought about almost giving up. Perseverance pushed me through. Then, I realized that if you give 100% it will always pay off. As Leah dove in, I helped Mackenzie out of the water, gave her a soggy hug and joined the cheers of the crowd.
About Annika Cho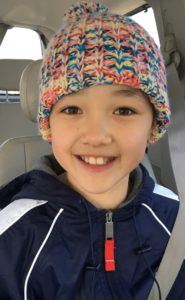 Annika is 10 years old and in 5th grade at Gill Elementary School in Farmington, MI. She has been swimming for dROP Aquatics, coached by Drew Hansz, Molly Tyler and Gloria Martinez Perez, since she was 6 years old.  Her favorite strokes are breaststroke and backstroke.