Misel Disel™, the product that is revolutionizing shaving has partnered with PACE PAL®, the inventors of the patented underwater pace clock used by both amateur and professional swimmers to improve turns, pacing sets, sighting and much more.
Misel Disel™ significantly improves the shaving experience more so than any product on today's market. As a patent pending and uniquely formulated combination of pure and natural oils, Misel Disel™ will provide a shave without equal each and every time.
Realizing the astounding benefits that Misel Disel™ provides for a remarkably smooth shave for face, head and body it was decided that partnering with PACE PAL® and company President Larry Day was a great fit. Larry is a true visionary, inventor, and avid swimmer with an amazing story highlighted by his triumphant return from a heart attack to break two world records in the 400 IM and 200 fly in the 60-64 age group and creating products for the casual swimmer to those going for Gold.
As Larry Day puts it, "Misel Disel™ provides an amazingly smooth, close shave that saves wear and tear on the skin. I am truly impressed." Misel Disel™ looks forward to a long productive partnership with PACE PAL®, as well as providing a shave without equal for everyone in the marketplace.
For more information, please visit miseldisel.com or call 866-208-2376.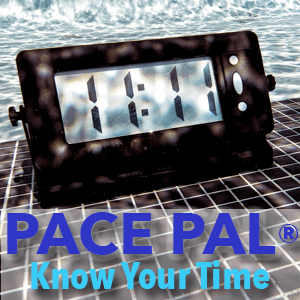 The "Pace Pal" underwater pace clock was designed and developed by a lifelong swimmer. It's challenging to keep motivated and stay on pace in the pool each day. The Pace Pal underwater pace clock was created to meet that need with it's high contrast LCD screen and highly visible BOLD DIGITS. Naturally portable in nature, it weighs just over 3lbs and fits into exercise bags easily. It's long life battery is also easy to replace if needed.
Larry Day, Pace Pal Founder & President:
"I'VE BEEN A SWIMMER MOST OF MY LIFE; WANTED A HIGHLY VISIBLE PACE CLOCK ON THE POOL BOTTOM. U.S. PATENT NO. 8,472,285. THANK YOU!"
Like Pace Pal on Facebook here.
Swimming News / Industry News courtesy of PACE PAL, a SwimSwam Partner.