The University of Florida No. 5 men's and No. 11 women's swimming & diving teams are set to host their penultimate home meet of the season on Saturday, Nov. 8 when No. 19/10 Minnesota comes to Gainesville. The three-meter dive is set to begin at 9:45 a.m. and swimming events kick off at 11 a.m.
Florida's women are a perfect 2-0 all-time against Minnesota, while the Gator men have posted a solid 4-1 mark against the Golden Gophers. Both UF and Minnesota's men's squads last met a season ago on Oct. 12, 2013 in Minneapolis, Minn., when the Gators beat the Gophers, 172-124. Florida's women last competed against Minnesota on Oct. 13, 2007 in Minneapolis when UF won by a count of, 168-132.
Last weekend, Florida's men's and women's teams fell at Georgia by scores of 174.5-122.5 and 176-119, respectively, in the Georgia's Gabrielsen Natatorium in Athens, Ga. Despite the losses, UF registered 11 NCAA 'B" standard times throughout the dual.
FLORIDA VS. MINNESOTA | FLORIDA MEET NOTES
SATURDAY, NOVEMBER 4 | STEPHEN O'CONNELL CENTER NATATORIUM | 11:00 a.m. ET
· 2014-15 Minnesota Dual Record: No. 6 Women, 4-0 | Men, 3-1
· Series Record: Florida leads: W: 2-0 | M: 4-1
Head Coach Gregg Troy – TROY'S TALKING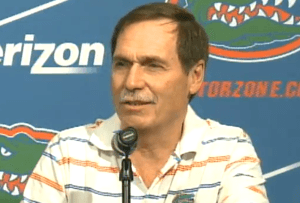 Recapping the Georgia meet…
"We had the opportunity to go against some great competition last Friday, as we swam a very good Georgia team. We didn't swim quite as well as we would have liked, but it gave us a good opportunity to see what happened in the previous two weeks leading up to the dual meet, as I thought we had two great weeks of training. As a staff, we were very happy with how the athletes responded race wise, but we just had too many mistakes."
On Minnesota…
The Georgia meet gave us a good starting point for what we needed to work on this week, as we're about to face a very good Minnesota team. They have the best women's team in the Big Ten and they have a solid men's team too."
AMONG THE NATION'S BEST
Following the Gators last two dual meets, Florida's men have had eight individuals record a combined 14 NCAA top-10 times across 11 events. For the women, UF has had five individuals record a combined 8 NCAA top-10 times across seven events.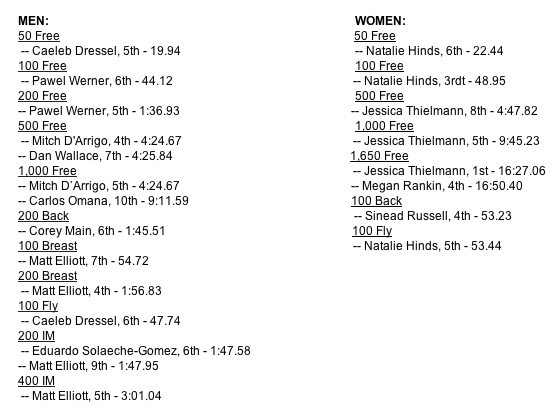 TOP RELAY'S
The Gators own the country's top times in the men's 800-yard freestyle relay (Dressel, Werner, Kaisrlik, D'Arrigo; 6:35.42) and the women's 200-yard free relay (Russell, Hinds, McKnight, Linn; 1:30.69).
RANKED
The Florida men's swimming and diving team is No. 5 and the women sits at No. 11 in the College Swimming Coaches Association of America rankings, CSCAA officials announced on Oct. 30 and Nov. 6, respectively. Head Coach Gregg Troy's women are off to a 3-1 start, with Southeastern Conference victories over now-ranked No. 22 Arkansas, LSU and Kentucky. Meanwhile, the men are 2-1, with SEC wins over LSU and Kentucky.
O'DOME DOMINANCE
The men's team has experienced great success at home since 2010, as the Gators are unbeaten in their last 18 dual meets in the O'Dome. Meanwhile, Florida's women's squad has posted a solid 14-3 mark over the past four seasons in Gainesville. UF hosts one more dual meet following tomorrow's matchup against Minnesota, as the Gators will host SEC-rival Tennessee on Jan. 31 at noon.
NEXT UP
Florida has just two meets left in 2014, beginning with the Georgia Tech Invitational from Nov. 20-22 in Atlanta, Ga. The final meet of the calendar year is from Dec. 4-6 in Greensboro, N.C. as UF will compete in the U.S. Nationals.
MARKETING & PROMOTIONS | FLORIDA vs. MINNESOTA
– UF students can enter a contest to win a free GoPro
– The first 250 fans in attendance will receive a free Florida Swimming & Diving coffee mug
– There is a pre-meet brunch for all UF students
– It's Military and First Responders Appreciation Day in the O'Dome
– All military personnel and first responders in attendance can receive a free drink or hot dog at the concession stand
College Swimming News courtesy of the University of Florida Swimming and Diving.