Courtesy of Gary Hall Sr., 10-time World Record Holder, 3-time Olympian, 1976 Olympic Games US Flagbearer and The Race Club co-founder.
JOIN THE RACE CLUB HERE FOR HIGH QUALITY INSTRUCTIONAL VIDEO
We provide video on swimming for all age groups, triathletes and competitive swimmers. Explore a breakdown of our prices for weekly videos and more below.
Of the ten points we teach at The Race Club for a better start, the kick up of the back leg is perhaps the most powerful and under-utilized technique out there. Depending on the age and size of the swimmer, the leg weighs anywhere from 20-40 pounds and can form a lot of kinetic energy with the right effort.
Most swimmers and coaches concentrate on the upper body's motions and positions for the start, but it is with the lower body that most mistakes are being made. The back leg-kick is one of the three coupling motions that can be used on the start. The other two are the head lift and the arm motion. Of the three coupling components, the legs have the most mass, so can generate a tremendous amount of kinetic energy that will augment the force of the front foot as the swimmer leaves the block.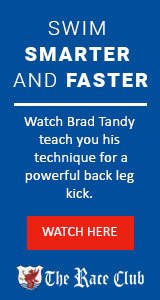 In this week's Race Club webisode (available to Lanes 1-4, Lane 1 is free), you will see how Olympian Brad Tandy uses a ferocious up kick to help him reach the water over .5 meters further down the pool than the other elite athletes we tested. That is a pretty significant lead, particularly in a sprint. You will also find some of the unique drills we use at The Race Club to help teach this important coupling motion.
After just a few tries with elite sprinter, Aaron Greenberg  (Yale graduate, 19.2 50 yard freestyle) and world class butterflyer, Marcus Schlesinger, both were able to improve their starts with a more aggressive kick up of the back leg. You can see how they learned this technique in the webisode this week.
For a faster start, practice kicking your back leg high into the air off the blocks. You will feel and see the difference that this important technique can make in your races.
For those of you in Lanes 3 and 4, you will find a great dryland exercise this week to help strengthen your lower back for breaststroke, another important coupling motion.
Yours in swimming,
Gary Sr
Because Life is Worth Swimming, our mission is to promote swimming through sport, lifelong enjoyment, and good health benefits. Our objective is for each member of and each participant in The Race Club to improve his or her swimming performances, health, and self-esteem through our educational programs, services and creativity. We strive to help each member of The Race Club overcome challenges and reach his or her individual life goals.
The Race Club provides facilities, coaching, training, technical instruction, video, fitness and health programs for swimmers of all ages and abilities. Race Club swim camps are designed and tailored to satisfy each swimmer's needs, whether one is trying to reach the Olympic Games or simply improve one's fitness. Our programs are suitable for beginner swimmers, pleasure swimmers, fitness swimmers, USA swimming or YMCA swimmers, or triathletes; anyone who wants to improve swimming skills. All of our Race Club members share an enjoyment of being in the water and use swimming to stimulate a more active mind and body.