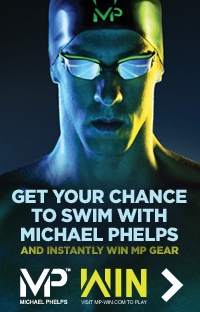 Imagine swimming with the greatest athlete of all-time.
Think about it, swimming icon Michael Phelps, in the pool with you.  It doesn't seems possible, but it is for the person who enters for the chance to win this opportunity.
This is the MP WIN SWEEPSTAKES. 
One lucky swimmer, the grand prize winner, will win a trip for two to swim laps with Michael Phelps. This is happening and the chance to win is at your fingertips.  Simply go here and enter.  It is so easy and takes no time at all.
If you don't play, you don't get a chance to win, and you can enter daily.  Participants can return to the site, www.mp-win.com,  enter each day and play the digital scratcher to win instant and weekly MP Gear prizes.
Do yourself a favor and enter for the chance to win a swim with Michael Phelps, a moment you will remember for a lifetime!
Go to www.MP-Win.com for complete details.
No Purchase Necessary. Subject to Official Rules at www.MP-Win.com.
Only available to residents of the US and Canada.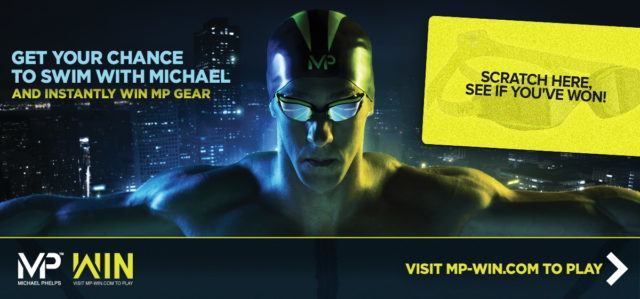 About MP
Launched in the spring of 2015, MP designed by Aqua Sphere is a shared vision to develop innovative products that are inclusive and accessible to a broader range of swimmers across the full swimming lifecycle. Combining Aqua Sphere's global product design expertise and distribution with Michael Phelps' and Bob Bowman's experiences at the highest levels of swim performance, the MP brand features technical swim products leveraging proprietary technologies and performance enhancing designs.
Established in Genoa, Italy, in 1998, Aqua Sphere is the premier swimming equipment manufacturer for fitness and recreational swimming, aquatic exercise and triathlons. With the launch of its cutting-edge Seal Mask—the world's first swim mask, the company set the industry standard and today continues to innovate with a complete range of premium products, including eye protection, swimwear, triathlon wetsuits, footwear, and swim fitness and training accessories. The designs have gained the respect and loyal following of many celebrities and notable athletes, including the world's most decorated Olympian Michael Phelps, with whom Aqua Sphere has partnered to develop the MP brand globally.


MP is a SwimSwam partner.