On April 23, 2017 the Greater Canton Aquatic Association will host its 32nd Annual Hall of Fame Enshrinement.  This day, the G.C.A.A. will celebrate the past and present success of Stark County aquatics to a crowd of nearly 400 at the McKinley Grand Hotel in Downtown Canton.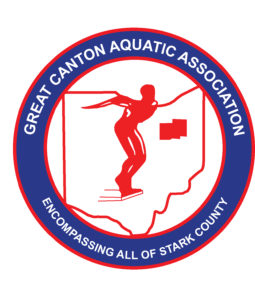 The G.C.A.A. Hall of Fame Enshrinement is widely considered the finest Enshrinement Ceremony in Stark County amateur athletics.
As we gather to recognize past swimming and diving greats, we will remember Ted Branin, Marty Mull, Ben Ledger, William Van Almen, Tom Whiteleather and other notable Hall of Famers.
There will be special congratulations to the Class of 2017:  Eric Skelly, Joel Vogt, Kristin Goldthorpe Richner, Tammy Behringer Schnabel and Nancy Rosengard.   Each will enter the Hall of Fame as one of the greatest Stark County athletes and coaches to ever compete in local swimming and diving.  In over 89 years only 111 swimmers, divers, coaches and contributors have been worthy of such and honor from the Greater Canton Aquatics Association.
As focus will remain with the current class of Hall of Famers, the G.C.A.A. will continue to pay tribute to many and remind everyone in attendance of the dedication and successes of our current Age Group, High School, College and Master aquatic athletes.  On April 23rd, the G.C.A.A. will recognize and honor over 100 competitors of the past year at all levels of competition.  Furthermore, it will be our pleasure to recognize the outstanding efforts of our local coaches and officials.
During the last 9 years the Greater Canton Aquatic Association has recognized State Championship Teams from years past.  Once again, it will be our honor to welcome these teams as well as past individual State Champions for a proper re-introduction to the aquatic community.
The Greater Canton Aquatics Association's purpose is to promote the advancement of aquatics and our primary function is to recognize achievement in aquatics in Stark County.  The Board of Trustees:  R.J. Van Almen, Chad Rohr, Eric Mojock, Lindsey Marucci, Grant Gillilan, Mark Rogers, Christine Ferrante, Jason Taylor, Eric Spaulding, Tim Murphy and Bob Van Almen believe their continued efforts exceed all expectations in Stark County Aquatics!
Hall of Fame Awards
Eric Skelly, Glen Oak
Joel Vogt, Massillon
Nancy Rosengard, Glen Oak
Tammy Behringer Schnabel, Perry
Kristin Goldthorpe Richner, Hoover
Boy's Co-Swimmer of the Year
Nathaniel Mullens, Hoover
William Rose, Alliance
Girl's Swimmer of the Year
Amanda Palutsis, Hoover
Boy's Diver of the Year
David Waszak, Hoover
Girl's Diver of the Year
Hannah Kurzinsky, McKinley
Elizabeth Geiselman Special Olympic Swimmer of the Year
Abigail Speers
Van Almen Family Scholarship Recipient
Annie Lochridge, Hoover
Mull Family Scholarship
Kasie Perretta, Central Catholic
Jim Craig Officials Awards
Jim Starrett – 20 Years
Bob Reolfi –  15 Years
John Wise – 15 Years
Tina Loomis – 15 Years
Ted Branin Coaches Awards
Mike Bugara:  20
Mark Rogers:  10
Eric Mojock: 10
Corey Unckrich:  5
Sponsorship Awards
Dave and Lori Cochenour
Phil Barr – Meadowlake Golf & Swim
Lisa Burrows – Aquatic Outfitters
R.J. Van Almen – R.V.A. Group
George Harvey Memorial Award
Scott Ferrell
Service Award
Masters Award
Chad Rohr
Elizabeth Geiselman Special Olympic Award
Abigail Speer
Swimming News courtesy of the G.C.A.A.