A revolution in swim performance technology is here! Firebelly is the world's first wearable swim device using bone conduction audio that gives you SmartFeedbackTM. Hear key performance feedback as you swim. After you swim, track your performance and identify areas for improvement with the free smartphone app.
No matter what your swimming goal is – get on the podium, get a best time, swim your open water race with confidence, or achieve a challenging time standard – you will know if you are on track or need to kick it up a notch.
Change the way you train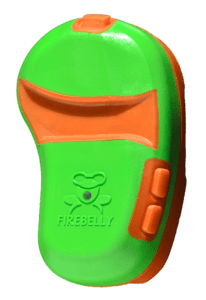 Hear the swim performance information you need, when you need it. Choose the type of critical swim metrics you want to hear:
Split time
Total time
Stroke count
Stroke rate
Distance
Head Position
Imagine what you could do with this information as you swim. It's a game-changer.
Analyze your workout performance
That's not all. Right after each session, you can review all of your performance data. Identify patterns in your training that lead to success—and those that hinder your progress. On your own or with your on-deck or remote coach, you'll find exactly where you need to improve to take your performance to the next level.
Fuel Your Motivation
During your workout and afterward, Firebelly feeds your inner fire. Not just the desire to win—but the desire to conquer your personal best. It is the voice in your ear—literally—that pushes you to the top of your game.
No Wires. No Earbuds. Just Freedom
Comfortable and streamlined, Firebelly frees you to achieve your personal best.
Firebelly avoids the clumsy wires and uncomfortable earbuds that distract athletes as they train. Instead, Firebelly fits quickly and easily under your goggle strap. Firebelly was designed to be as seamless to your workout as a pull buoy or pair of fins. Crystal clear bone conduction audio fuels better performance and enables you to make real-time adjustments to your swimming.

Mobile App-Friendly
Instant analysis
You don't have time to run back home for your laptop to analyze your workout. Firebelly lets you pull up your post-practice data on your smartphone. Right there. Right after you step out of the pool.
Track performance over time
Swimmers want to focus on the long term. With Firebelly's performance-tracking data, coaches and swimmers can see trends—and make those changes that will help the numbers trend upward. Your ability to analyze long-term progress just took a gigantic leap.
For Coaches: Better Feedback, Better Swimmers
Coach Multiplier
Imagine a way to clone yourself. A way to whisper game-changing metrics in the ear of every one of your swimmers at the same time as they practice.
With Firebelly, you have the next best thing. This device does it for you. Your swimmers will get real-time feedback as they swim. Split times. Stroke rate. Stroke count. Everything you want to tell them when they need it the most—when they're in the water.
Expand Your Focus
It'll change the way you coach. Your swimmers will already know their metrics. Instead of keeping your eye on the stopwatch, you can expand your focus to technique feedback or simply cheering on your swimmers. When your swimmers know their numbers aren't what they aimed for, you can point out why. Right there and then. Immediately, they can make changes and fine-tune their technique. Their improved numbers will reinforce your advice. Firebelly brings intelligent coaching that helps swimmers learn on the spot.
What Swimmers and Coaches are Saying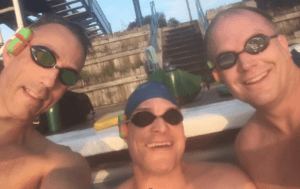 Matt Keller (left) is Firebelly's developer. He is a lifelong competitive swimmer with 30 years of professional technology experience. His commitment to the sport wouldn't let him release it to his fellow swimmers until it satisfied his high standards. He says, "When I developed the Firebelly performance monitor, I knew this would be the game-changing tool that could transform this sport."
We didn't stop there, though. We've already tested Firebelly extensively with some of the nation's most foremost competitive swimmers. And already some of these swimmers and their coaches credit Firebelly for their rapid improvement.
Specifically, they cite the device's instant feedback, comfort, and ability to track long-term progress as factors that set Firebelly apart from other devices they've tried. The device's ability to customize each workout to specific goals they want to target makes every practice session more productive. The insight they've gained through the device's targeted, accurate analysis has taken their performance to the next level—and beyond.

You, too, can join the growing number of swimmers who have already signed on to the Firebelly revolution. Grab your shot at competition success. Don't wait until your competitors have theirs.
Support our Firebelly Indiegogo Campaign today.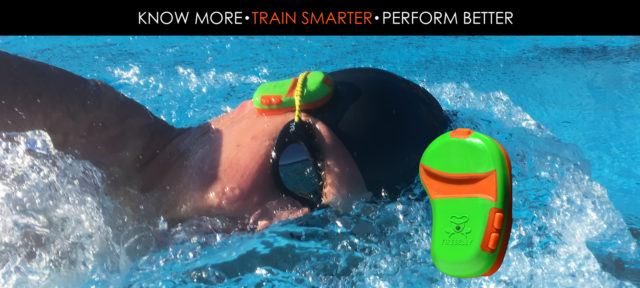 Swimming gear news is courtesy of Firebelly, a SwimSwam partner.