Today's FINIS Set of the Week comes from CJ Fiala, who currently works for FINIS as their Sports Marketing Lead.  CJ is a two-time Olympic Trials qualifier and elite level swimmer that has worked with many of the best swimmers in the world.  You can follow CJ on Instagram @cjfiala.
The following set was a set that really helped me through my taper.  It allowed me to still tap into cardiovascular systems to maintain an aerobic capacity while getting up to some top-end speed, but also kept my major (and larger) muscle groups rested as to not fatigue the body too much.
The key during taper is to remember everyone is DIFFERENT!  No two swimmers are the same, therefore need rest a specific way and manner.  Feel free to modify the following set to fit your athletes:
Warm Up:
500 S.K.I.P.S (Swim, Kick, IM, Pull, Swim)
4 x 100 Freestyle breathing 3-5-7-9 per 25 (1:05 interval)
8 x 25 NTS (2 times through these four 25's) (:30 interval)
25 Kick on your RIGHT side with Alignment Board
25 Kick on your LEFT side with Alignment Board
25 Catch-up drill Freestyle
25 FAST Freestyle
Aerobic "Maintenance":
(I like to call it this since you've already done all the training, you're just fine tuning and maintaining)
75 Race pace from a DIVE, matching correct stroke count and kick count by using a Tempo Trainer Pro
:10 seconds rest
25 Underwater butterfly kick
:10 seconds rest
50 Race pace from a PUSH, matching correct stroke count and kick count by using a Tempo Trainer Pro
:10 seconds rest
50 25 distance-per-stroke, 25 fast underwater kicking or pullouts to the middle then race to the wall
:30 seconds rest then repeat 3 times
Time For Pure Speed:
3 x 12.5 Short cords with resistance
1 x 25 FAST from a DIVE
:10 seconds rest
1 x 25 FAST underwater butterfly kick
1:00 rest then repeat 3 times
For more awesome workouts, visit FINIS' Training Tips & Workouts page today!
About FINIS, Inc.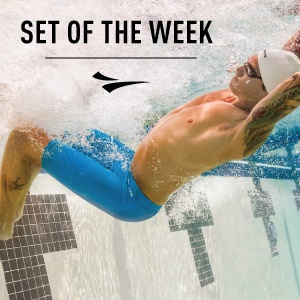 John Mix and Olympic Gold Medal swimmer Pablo Morales founded FINIS in Northern California in 1993 with a mission to simplify swimming for athletes, coaches, beginners and lifelong swimmers around the world. Today, FINIS fulfills that mission through innovation, high quality products and a commitment to education. FINIS products are currently available in over 80 countries. With a focus on innovation and the fine details of swimming, FINIS will continue to develop products that help more people enjoy the water.
News courtesy of FINIS.