Courtesy: Destro Machines, a SwimSwam partner. 
Destro Machines is excited to announce the release of its long requested, Destro Double Swim Tower. The DDST offers the same reliability, quality, portability, and resistance as our original tower, but with several added benefits.
The Destro Double Swim Tower's adjustable resistance allows coaches to tune their training to an athlete's specific needs. Higher resistance training will benefit a swimmer's explosiveness, athleticism, power and speed. While, lower resistance will benefit an athlete's endurance, technique, and feel. Swim towers also create a fun and exciting atmosphere for athletes and allow greater flexibility in a coaches practice strategy.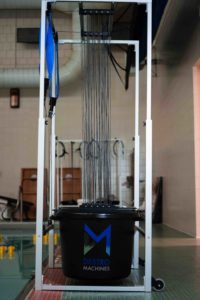 The DDST is beneficial for all types of swimmers.
Distance Swimmers – Create muscle confusion and additional fatigue on the swimmer to increase endurance.
Middle Distance Swimmers – Develop a more efficient kick & stroke for improved endurance and speed in races
Sprinters – Develop massive explosive power for dolphin kicks, pulling, flutter kicks, and flip turns
*NEW* Double the Power: Now you have the option to use two swimmers per frame, or one swimmer with two buckets.
*NEW* Portability: Collapsed (29 L x 43 W x 45 H) Inches Extended (29 L x 43 W x 69 H) Inches, 40 Lbs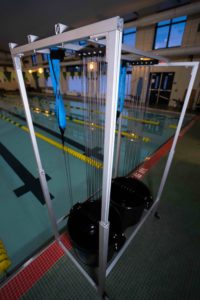 Smooth Resistance: Our unique design provides the smoothest resistance on the market.
Quality: No worn out pulleys—designed and tested to resist thermal fatigue, UV exposure, mechanical wear, and chemical resistance
No Rust: We used only ultra corrosion resistant hardware and aircraft aluminum to build our tower
Rope Kicking: By changing the rope height, your feet are free to kick water- not rope
Resistance: Up to 25m of consistent resistance
Value
*New* Price: The lowest price on the market is now even lower at just $1050 – $1150 per bucket
*NEW* Shipping: The lowest shipping cost on the market is now even lower at $20 – $50 per bucket US
*NEW* International: Even lower international shipping costs, contact us for a quote.
Storage: The tower is super easy to transport or store in small spaces, like an SUV.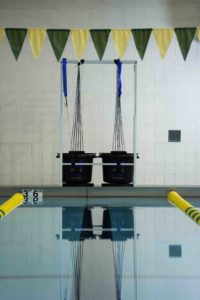 I graduated from Purdue University in 2014 as a mechanical engineer and swimmer. I was lucky enough compete against and practice with some of the best athletes in the world at the 2012 & 2016 U.S. Olympic Trials, and NCAA Div I Championships. Afterwards, I spent several years as a machine designer in automotive and manufacturing facilities. What I learned is that making an athlete is a lot like making a machine. When we build a machine, we use exact measurements, designs, plans, schedules, and conduct trials. After each revision, we quantify performance and make the appropriate changes until we have the perfect performance. This is how swimmers should be training, but we don't yet have the technology available to train this effectively. I founded Destro Machines so that I could develop the tools our sport needs to escape the dark ages of training. It is my promise to develop the best training technology that the swimming world has ever seen. Machines aren't just what we make, Machines are who we make."
― Chuck Destro, Co-Founder
Destro Machines is a family and swimmer owned company. We were founded in 2015 when we realized that swimmers and coaches were lacking the effective and affordable training technology required for them to reach their goals. Our team of engineers, has spent years working with Division I College and top tier high school programs to develop equipment that's not only less expensive, but also more effective than any other resistance training system available.

Swim training courtesy of Destro Machines, a SwimSwam partner.