As well as leading Team USA at the FINA World Championships in Kazan, Russia this summer, David Plummer was voted team captain by his teammates as a senior at the University of Minnesota. The 30 year-old father and former World Championships silver medalist knows a thing or two about leadership.
Recalling this summer's worlds in Russia, he had one stand out memory:
"Being voted team captain. It was a great honor to represent our team and country in a whole new role."
Being a team captain carries numerous responsibilities, aside from swimming fast. David highlighted the key traits he believes make a successful leader in our sport:
After wining silver two years ago in Barcelona, and finishing fifth in 2011, David missed out on the final of the 100m backstroke in Kazan. A stomach bug put paid to his aspirations, but he got right back up and made the final of the 50m backstroke.
Rookies and younger teammates may feel anxious about all sorts of things but it's important to remind them just to have fun. "The most important and memorable things in my life have come from swimming, and almost all of them happened outside the pool. What happens in the pool is important, but it definitely isn't everything."
Swimming may be an individual sport, but the training is done as a team, and you go to every meet with your teammates, so it's important to always be positive. Negativity can affect everyone around you, but so can being positive!
A cohesive and strong team needs everyone working towards the same goals and supporting each other. A few quiet words of reassurance to a new teammate or someone who is having a hard time can bring everyone together to help each other achieve more.
David Plummer has his sights firmly on the US Olympic Trials next July, where he hopes to make his first Olympic team. He missed the team in 2012 by one place and an agonizing 0.12 seconds.
David is a blueseventy sponsored swimmer and wore nero14 jammers at the FINA World Championships.
Aptly named to suggest 70% of the earth is covered in water, blueseventy is the world leader in the pool, triathlon and open water wetsuits and swimskins. Since 1993, we design, test, refine and craft products using superior materials and revolutionary details that equate to comfort, freedom from restriction and ultimately a competitive advantage in the water. blueseventy products have instilled confidence in beginners as well as carried world-class athletes to countless Olympic and World victories.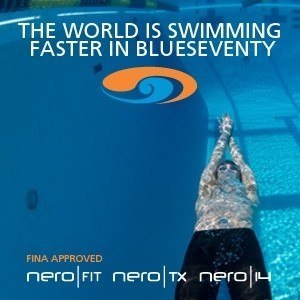 For the latest news and blogs from blueseventy visit www.blueseventy.com.
Twitter: @blueseventy 
Facebook: facebook.com/blueseventy
Blueseventy is a SwimSwam partner.