From Crossover Symmetry / Bulletproof Shoulders
Every swimmer wants to crush the hardest training sessions — then show up the next day to do it again…all without breaking down.
Achieving this perfect balance requires more than the right training sets, stroke technique, and drilling fundamentals.  It's the work happening outside the pool that is changing the game for many.
Take it from Coach Karl Krug.  He is an All-American swimmer, and head coach for Spartan Aquatics Club in Atlanta, Georgia.
Coach Krug uses his experience as a world class competitor to get the full potential from his athletes.  He says:  

"You never get the most out of your athletes if they're ran into the ground or injured.  So I want to provide any tool outside the pool to maximize potential once they hit the water."
Getting a Performance Edge
Every serious swimmer is putting in yards, adopting the newest swim gear, and strengthening with intense dry land sessions.  It's about finding the things that are not done by the competition that often sets the best from the rest
Building the bulletproof athlete takes a comprehensive plan that utilizes every hour of the day to maximize recovery,  strengthen, and hone in on weak points.
This is not only for the highest level swimmers either.
Coaches and swim clubs are also strategizing ways to maximize their age group swimmers.
The Tools
So what are some proven ways to gain an edge on the competition?
1 – Dial in the Primal Needs
It may be common sense, but sleep and nutrition are the 2 most primal needs and where many athletes fall short.  Dialing in these elements is the easiest way to see huge performance gains.
Research at Stanford University showed the Men's and Women's Swim Team improved 15-meter sprint times just by getting more sleep.  Specifically they improved reaction time off the blocks by .15 seconds and decreased turn time by .1 seconds (AASM 2008).
These numbers can be the difference between placing and finishing middle of the pack.
While it's easy to push for more sleep and see times fall, managing nutrition can get more complicated.  It's easy to get caught up in millions of opinions on nutrient ratios, meal timing, and calorie intake.  Simplify it by looking for small changes that make big impacts
Talking to Coach Krug about fueling his athletes, he pushes his swimmers to eat lots of whole foods.  He also provides post-workout shakes at the training facility.  His primary goal is to improve food quality and getting his swimmers to avoid the fast food options.
2 – Active Recovery
For a long time, recovery was about chilling-out with a bag of ice and the feet propped up.  Now we know active recovery is much more effective for getting an athlete back to prime function.
Actively restoring your muscle tissue will keep the injury bug from creeping in and keep your splits on point.  For swimmers, it's most often shoulder problems that hold them back in training.
Coach Krug's swimmers use a foam roller daily to release tight muscles.  He also has 5 Crossover Symmetry Systems on deck  to use before and after practices.  Crossover Symmetry  has drastically decreased the number of shoulder issues on his team.
Coach Krug said:
"Since starting to use the Crossover Symmetry System, postures have all improved.  I know if someone complains about shoulder pain they aren't doing the Crossover Symmetry.  They get back on it and their shoulder pain is gone in a few sessions."
3 – Find Experts
"If you chase too many rabbits you won't catch anything." – Karl Krug
Finding experts in other realms adds tremendous value to a swim program.  Krug says he knows a lot about training from his years of experience, but swimming is his one expertise.
To gain an edge, Krug has a certified strength and conditioning coach to lead dryland workouts.  A Physical Therapist is also on site once a week to manage any aches and pains that come up with his swimmers.
This allows Krug to focus on the swimming side and keeps his athletes healthy and swimming faster.
Conclusion
Getting the most out of every practice is important.  But the top performers extend their training time beyond the pool.  Proper sleep & nutrition, and implementing tools like Crossover Symmetry for active recovery and shoulder activation will keep the body primed and ready for the next big push.  
References:
American Academy of Sleep Medicine. "Extra Sleep Improves Athletic Performance." ScienceDaily. ScienceDaily, 10 June 2008.
How does Crossover Symmetry Work?
The Crossover Symmetry System is the perfect adjunct to time spent in the pool.  It's not designed to replace your training, but rather a necessary prerequisite and accessory dryland work to be incorporated into a complete training program.  It includes programs for muscle activation, recovery, speed, strength, and mobility, (each program only takes 5 minutes to complete.)  The Crossover Symmetry System includes a complete online training and education platform, making it a complete system to end your shoulder pain and take your training to the next level.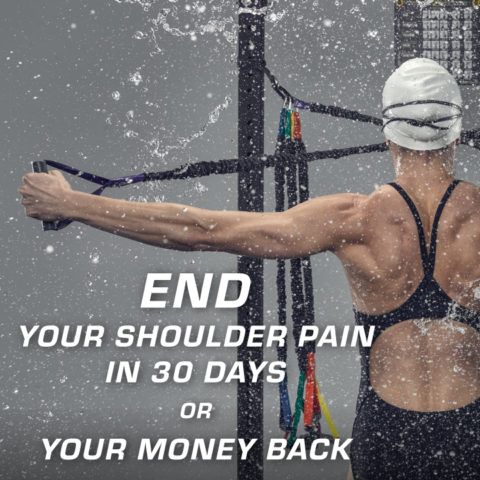 BORN FROM SCIENCE – VALIDATED BY ATHLETES Crossover Symmetry is an evidence based shoulder health and performance system, developed by top sports physical therapists, athletes and coaches. The programs are designed to facilitate safe and efficient shoulder mechanics in order to eliminate pain, reduce the risk of injury and optimize performance.  Over 75% of Div 1 University athletic programs and thousands of rehab facilities use Crossover Symmetry on a daily basis.
Follow Crossover Symmetry on Instagram.
Like Crossover Symmetry on Facebook.
Follow Crossover Symmetry on Twitter.
Swimming gear news is courtesy of Crossover Symmetry, a SwimSwam partner.