Disclaimer: BlueSeventy Swim of the Week is not meant to be a conclusive selection of the best overall swim of the week. The BlueSeventy Swim is an opportunity to take a closer look at the context of one of the many fast swims this week, perhaps a swim that slipped through the cracks some as others grabbed the headlines.
With college dual meet season hitting its full stride, swimming headlines have been dominated by feats like Jack Conger's butterfly excellence or Anton Ipsen's breaking and re-breaking of the NC State 1000 free school record.
While those swims and several others last weekend were out of this world, we wanted to take this week's blueseventy Swim of the Week to look at a quick age group swim that perhaps got lost in the shuffle of NCAA action.
At the Schroeder YMCA A+ Meet in Brown Deer, Wisconsin this weekend, Schroeder YMCA 12-year-old Kaylyn Schoof broke a meet record nearly three times as old as she is.
Swimming in the meet's first session Friday night, Schoof hacked just under four seconds off of her previous lifetime best to rocket away from the field in a stunning, 6-second 200 IM victory. Previously holding a best of 2:10.26, Schoof went 2:06.47, smashing the 11-12 meet record by a full second.
That was one of the oldest meet records on the Schroeder A+ books, set in 1983 by Bridgett Bowman. That makes it a 32-year-old record cracked by a 12-year-old swimmer. For comparison, if Bowman was 12 when she set the record, she would have been into her 30s before Schoof was even born.
The swim also vaults Schoof into the top 20 in USA Swimming's All-Time 11-12 rankings in the event. Some of the names she passed with that swim, the 19th-best of all-time: Katie Hoff, Maya DiRado, Janet Hu and Elizabeth Beisel.
Aptly named to suggest 70% of the earth is covered in water, blueseventy is the world leader in the pool, triathlon and open water wetsuits and swimskins. Since 1993, we design, test, refine and craft products using superior materials and revolutionary details that equate to comfort, freedom from restriction and ultimately a competitive advantage in the water. blueseventy products have instilled confidence in beginners as well as carried world-class athletes to countless Olympic and World victories.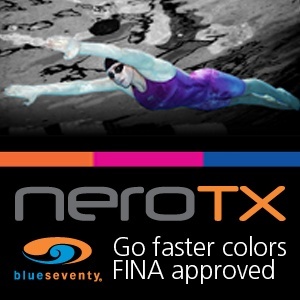 For the latest news and blogs from blueseventy visit www.blueseventy.com.
Twitter: @blueseventy 
Facebook: facebook.com/blueseventy
 Blueseventy is a SwimSwam partner.