Disclaimer: BlueSeventy Swim of the Week is not meant to be a conclusive selection of the best overall swim of the week, but rather one Featured Swim to be explored in deeper detail. The BlueSeventy Swim is an opportunity to take a closer look at the context of one of the many fast swims this week, perhaps a swim that slipped through the cracks as others grabbed the headlines, or a race we didn't get to examine as closely in the flood of weekly meets.
It's been a slow two weeks of meets in the United States and around the world as the planet's top swimmers (mostly) gear up for the Olympic Games, while the rest of us prepare to watch them.
There are some Sectional (read: regional) championships happening in the United States, though, and one truly world-class swim stood out among those meets: the 200 backstrokes done in Brown Deer, Wisconsin by Sean Lehane of the University of Tennessee.
Lehane swam a lifetime best of 1:55.74 in prelims and then improved to a 1:55.56 in finals – which ranks him 8th in the world in that event.
Even on his second summer taper, Lehane captured some Brown Deer magic in Wisconsin. Brown Deer is otherwise a small suburb of 12,000 residents that has churned out a handful of notable residents (including well-known major league baseball umpire Bruce Froemming), but otherwise is just a quiet outspurt of Milwaukee. In swimming, however, it is home to the Walter Schroeder Aquatic Center, which has a spot in many peoples' swimming memories. Nationally, it is known as one of the (many) stomping grounds of Mary T. Meagher in the early 1980s, including 1981 where she set a World Record in the 200 fly. That swim still stands as a U.S. Open Record and is one of the oldest significant records standing anywhere in the world.
Aside: as a kid, my first travel meet and 200 IM were both swum in Brown Deer – I was disqualified for flutter-kicking on my first stroke of butterfly. I remember having wished they'd stopped me a lot sooner. I grew up in the same town, Naperville, Illinois, as Sean Lehane, so I'd imagine he's made a lot of swimming memories in Brown Deer as well.
The 2015 Pan Am Games swimmer had a good meet at the Olympic Trials, finishing 4th in the 200 back in a new lifetime best and earning himself a spot on the U.S. National Team. He was a bit lost, however, behind the Cal 1-2 training partners Ryan Murphy and Jacob Pebley that was such a great storyline in that race. But with his All-America collegiate career ending in March, Lehane improving and elevating his times to another level leaves him with a tough decision to make. To continue training as a pro, he'll be committing to the 2020 Olympic Games and at least four more years of swimming. That could be a big life-choice ask for someone who is still a second behind the top two Americans in the 200 back, who are both about his age.
On the other hand, Lehane started college young (he was only 17 for most of his first semester), and has an example of how that perseverance can pay off even within his own stroke discipline – the backstrokes – with David Plummer in a similar situation but making his first Olympic Team this summer at 30 years old.
Lehane is a perfect example of a swimmer who we're hoping will continue his career. He's still showing major improvements, he's performed well at high pressure, international meets, he's had a year-fewer data points to determine his true potential.
Aptly named to suggest 70% of the earth is covered in water, blueseventy is the world leader in the pool, triathlon and open water wetsuits and swimskins. Since 1993, we design, test, refine and craft products using superior materials and revolutionary details that equate to comfort, freedom from restriction and ultimately a competitive advantage in the water. blueseventy products have instilled confidence in beginners as well as carried world-class athletes to countless Olympic and World victories.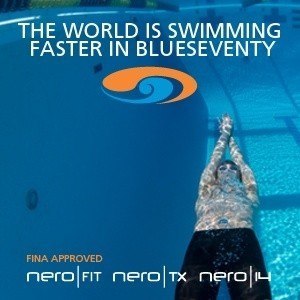 For the latest news and blogs from blueseventy visit www.blueseventy.com.
Twitter: @blueseventy 
Facebook: facebook.com/blueseventy
 Blueseventy is a SwimSwam partner.