A3 Performance, The Performance Swimwear Company, unveiled its latest innovation, BODIMAX Sleeves ⎯ the first-ever aquatic performancewear.
A3's BODIMAX Sleeves are the first-ever intelligent fabric used in sport, designed to impact performance and recovery, so athletes can train better longer and get better faster. A3 Performance has been actively developing the BODIMAX Sleeves over the last four years, since the initial chemistry of the technology. A3 President and CEO Dan Meinholz is excited to bring this amazing, cutting edge technology to the sport of swimming and athletes everywhere,
"We are thrilled to be the first to introduce such an innovative technology. Our BODIMAX sleeves were designed specifically for swimming, but we have found that the sleeve's benefits go far beyond the pool. In my time in the sport of swimming, I have never seen a more significant product innovation for training and recovery" said Meinholz.
The state-of-the-art BODIMAX Technology is at the forefront of athlete training and recovery advancements. The intelligent fabric goes beyond basic compression athletes are so familiar with. The BODIMAX sleeves do not only compress the muscle, but they interact with the body. BODIMAX absorbs body heat and returns it back to the body as energy. The energy rays' penetration of the skin stimulates blood microcirculation, cellular metabolism, and thermoregulation. These processes improve the concentration and flow of oxygen in the body which diminishes lactic acid buildup in the muscles and thereby delays fatigue and enhances performance.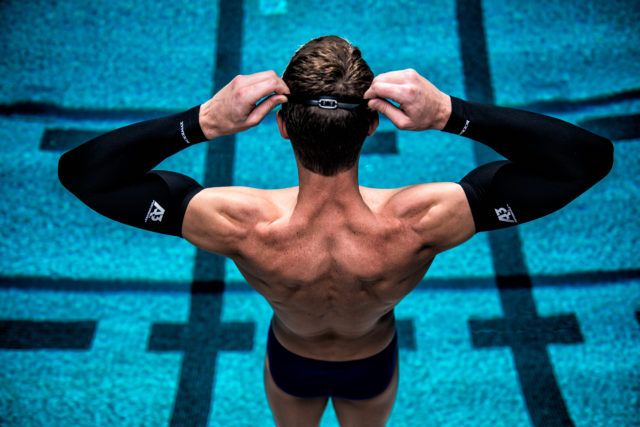 About A3 Performance
A3 Performance is the fastest growing brand of performance swimwear in the United States. Driven by a 'Highest Quality, Best Price' philosophy, A3 Performance develops the sports' most innovative products for an amazing price. The first brand ever to develop both a closed back and a powerback female racing knee suit continues to innovate the sport of swimming, now with BODIMAX Sleeves. Train better, swim faster, and be the best with A3 Performance – The Performance Swimwear Company.
Swim gear news is courtesy of A3, a SwimSwam partner.