CALVIN COLLEGE – GRAND RAPIDS, MICHIGAN
Overnight camper – $615
Day camper – $510
Featuring: Coach Dan Gelderloos (Head Coach at Calvin) & Coach Chris Sullivan (Assistant Coach at Calvin).

COMPETITIVE STROKE CAMP AT CALVIN COLLEGE
The cornerstone of the Competitive Stroke Camp's success is a dedication to helping campers improve each of the four strokes when it comes to technique, training and race strategy.
The Competitive Stroke Camp is a balanced curriculum emphasizing swimming efficiently, training effectively, working as a team and having fun.  This holistic approach to becoming a better swimmer is at the essence of "Total Performance" and is one of the reasons swimmers find success with our camps. Training plans are different for older and younger campers, and further differentiated by training groups for a highly personalized experience.
Our campers receive small-group instruction in a low swimmer-to-coach environment, team and leadership building sessions, daily video analysis of strokes and classroom sessions. Most importantly, Total Performance campers have FUN – both in and out of the pool – with scavenger hunts, variety shows, games and meeting new friends!
The camp accommodates both the novice and highly-trained swimmer (ages 10-18). Please note this is not a learn-to-swim camp. We recommend campers to have had at least one season of competitive swimming and know how to swim all four strokes.
COACHES
Calvin College – Head Men's and Women's Coach
Director of Calvin Competitive Stroke Camp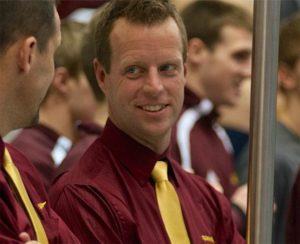 Dan Gelderloos is in his twentieth year as the head men's and women's coach at Calvin College. During his tenure, Gelderloos has established his women's team as a conference leader, winning thirteen of the last sixteen MIAA conference titles. In addition, Gelderloos has guided the Calvin women's swimming and diving program to five, top-10 finishes at the NCAA Division III Championships, and helped the men's program return to a top-20 standing nationally.
At the individual level, Gelderloos has coached numerous Calvin swimmers to All-American status and individual national titles. Most recently, Elizabeth Counsell earned a runner-up finish in the 200 breaststroke at the 2013 Division III NCAA Championships and Johnson Cochran finished 3rd and 5th in the 100 and 200 breaststroke at the 2014 NCAA championships.  Many time national champion, Becky Weima, captured the national title in the 200 freestyle in 2005 and followed with national titles in the 50 freestyle, 100 freestyle and 200 freestyle in 2006.
2017 will be Gelderloos' seventh year Directing the Competitive Stroke Camp at Calvin College.  Currently, he has six former campers swimming with him and the Calvin Knights.
Calvin College – Assistant Men's and Women's Coach
Calvin Competitive Stroke Camp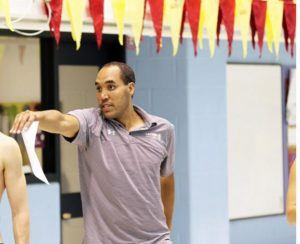 Chris Sullivan joined the coaching staff at Calvin College as the new Assistant Coach in 2016. Sullivan attended Oakland University where he set varsity records in the sprint freestyle and butterfly events and multiple relays. At the age of 21 he competed at the 2004 US Olympic Trials in Long Beach, California and in 2006 he finished top 8 in the 100 freestyle and 100 butterfly at Division I NCAA Championship meet, making him a 5-time NCAA All-American.
Sullivan grew up in Rockford, MI and helped Rockford High School to their first State Championship titles in both water polo and swimming in 2000 and 2001. After a decorated college career at Oakland, he became the Assistant Coach at Colorado College from 2008-2013.  In 2012 he was inducted into the Rockford Hall of Fame.
CAMP HIGHLIGHTS
Two swim sessions designed to train more effectively
Dryland exercises and games
Daily stroke clinics, videotaping and individual video critique
Instruction and classroom discussions with guest clinicians on training physiology, goal setting, nutrition, race strategy and more
Three delicious all-you-can-eat meals each day – all dietary needs accommodated!
Camp t-shirt and stroke critique DVD
Fun evening activities including movies, scavenger hunt, talent show and more!
24-hour supervision on beautiful and safe campuses
CAMP DISCOUNTS
Holiday Discount – $50 off – Register between December 1st and December 31st, 2017 at midnight to take advantage of our special holiday pricing.  The holiday discount can be applied to any Total Performance camp.  Enter promo code: HOLIDAY2017 when registering.  For a limited time only!
Returning Camper Discount – $20 off – For any camper who has been to any Total Performance camp before.
Enter promo code: RETURN17 when registering.
Team Discount Program – $35 to $50 off per camper – For teams sending 5 or more campers to any Total Performance camp. For more information, click here.
*Only one discount may be used per camper*
Contact Us
Total Performance Sports Camps, LLC
Questions? Call or email Anne – 740-398-4464; [email protected]

Swim Camp News is courtesy of TPSC, a SwimSwam Partner.