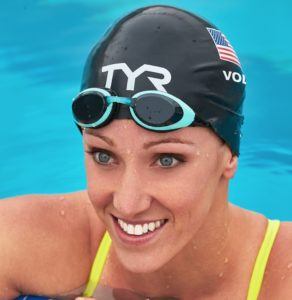 7-time Olympic medalist Dana Vollmer dropped a 27.5 50 meter freestyle at the Mesa Pro Swim. She was very pregnant, over 6 months pregnant. Dana said she needs to stay connected to the water, the feel of it, maintaining her power and to simply keep her head in the game. Most of all, her Mesa appearance sounded like an opportunity to see her old Olympic teammates.
If you've been hiding under rock and haven't heard the news, Dana's having boy,  but this isn't her first rodeo. Dana already has a son, Arlen.  She took an extended break with the birth of her first child, but she doesn't plan to do that again. Dana likes the balance competitive swimming brings to her life.  Expect her to be back in the water soon.  I'm guessing she'll race this summer, but it'll be low-key, like the Mesa Pro Swim.  Dana said she'd like to be back in serious race-action by December of this year.
Follow Dana Vollmer on Twitter here.
Follow Dana Vollmer on Instagram here.
Like Dana Vollmer on Facebook here. 
RECENT EPISODES
This is a Gold Medal Media production presented by SwimOutlet.com. Host Gold Medal Mel Stewart is a 3-time Olympic medalist and the co-founder of SwimSwam.com, a Swimming News website.
ab