Tyler Clary may have more reasons than one for training at SwimMAC in Charlotte, North Carolina. Sure, he's got the world famous coach David Marsh and the support of an elite program in SwimMAC, but he's also in the heart of NASCAR country, and Clary loves racing cars.
Clary was profiled last year in the local paper, the Charlotte Observer, on the racing and elite swimming topic, but what's making a buzz right now is the tweet from Charlotte Observer Deputy City Editor (and swimmer) Doug Miller.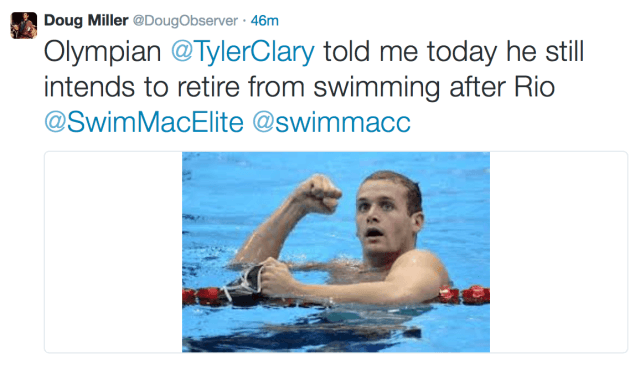 There is no official word from the Olympic Champion on his plans after Rio, but few could blame him for pursuing another sport.
Clary's long into his elite career, with stunning performances under his belt. Few will ever forget how dramatically he upset Team USA icon Ryan Lochte and Japan's Ryosuke Irie, closing on the final lap of the 200m backstroke at the 2012 Olympic Games in London.
Clary's also a stalwart stock, consistently turning in solid performances, even in down years. Clary was the star of the 2014 U.S. Nationals, setting himself up for a promising World Championships this summer in Kazan.
Still, talking to Clary on deck at meets, his eyes light up when the conversation veers to racing cars. According to the Charlotte Observer, Clary made a great racing friend in NASCA star Jimmie Johnson.
"I asked him if he would be willing to trade some driving advice for some swimming advice," Clary said. "I helped him with his freestyle."
Johnson is a triathlete, and freestyle tips from Clary appear to have sealed the friendships. Johnson told the Charlotte Observer:
"It's fun watching him enter my world, and I've had fun trying to survive in his.  He is a great competitor and has found a new outlet to take away some of the pressure from his day job. I'm pulling for him to succeed."
You can see Tyler Clary compete next week at the Arena Pro Swim Series in Charlotte.
Read the complete Charlotte Observer feature here: http://www.charlotteobserver.com/sports/nascar-auto-racing/thatsracin/article9136877.html#storylink=cpy