ANDREW CHADEAYNE:
I spent this past weekend at Princeton University.  It was my 11th consecutive Princeton Reunion…. 14th consecutive if you count the three that I attended before graduating.
Princeton Reunions is a special weekend each year because so many alumni go back for the event.  This year Brooke Shields (pictured below with SwimSpray Chairman, Jim Sullivan, left) celebrated her 25th Reunion and Bon Jovi performed.  It's an incredibly fun party because there is so much school spirit.
Personally, I think I love Princeton so much because of swimming there.  Don't get me wrong–I have only good things to say about my academic experience.  It was top notch all the way.   However, for me, the single greatest part of going to Princeton was swimming for Princeton, i.e., the Princeton University Competitive Swimming and Diving Team ("PUCSDT").
Swimming at Princeton was special because of the people on the team.  It was a huge family, filled with intelligent, talented, and interesting people.  The creative and competitive atmosphere was intoxicating.  Someone was always up to something.  Now, once a year, we get to go back and relive our glory days.  It's sort of like adult camp.
This reunion was particularly fun for me because so many people were supporting SwimSpray.  When I walked onto the deck of the Alumni Meet, head coach C. Rob Orr was wearing a SwimSpray T-shirt.  And, dozens of SwimSpray supporters wore SwimSpray stickers as fashion accessories throughout the weekend.  A few alumni even provided some video Testimonials!
It was really humbling to see all of the support from PUCSDT Alumni.  It served as a reminder of how SwimSpray's success has been due to talented PUCSDT alumni.  For example, our upper management is made up entirely of Princeton Swimmers: Andrew Chadeayne (P '01), Jim Sullivan (P'99), Peter Wong (P'06), and Jamie Holder (P'00).
Now I am left to wonder if there's any correlation between the above support and the fact that we completely sold out of 4 oz SwimSpray bottles today….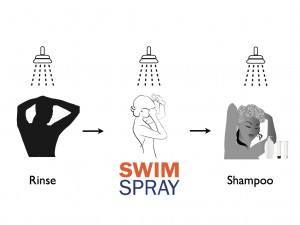 Dr. Andrew Chadeayne is a Ph.D in Chemistry, Master Swimming National Champion, and the inventor of SwimSpray. Follow him on Twitter @swimspray and fan him Facebook.