Courtesy of Swim Smart, a SwimSwam partner.
"As a coach, I like what I see in the water when my swimmers use the Power Harness. Our training is more technically sound and therefore more effective…

It is pretty durably constructed and comes with a carabiner so that you can attach it to parachutes, power towers, StretchCordz, buckets, or whatever form of in-water resisted training you do. You can also choose to buy it with a parachute and/or a weight. I don't have a large budget for training equipment, but after trying the Power Harness I have already bought 9 of these so we can have a bunch of swimmers using it at the same time."
– Ryan Woodruff, head coach of the Lynchburn (Virginia) YMCA and founder of the Swimming Wizard and author of The Quotable Swimming Coach
Get your Harness HERE!
Drive with the shoulders
Quickly clip in and out with the carabiner
Versatile use with Power Towers or parachutes
Build HUGE in-water power
The Swimming Power Harness is an upgrade to the typical waist belt used by parachutes and Power Towers. It forces the swimmer's upper body to drive to the other wall in a straight line, rather than let it bob up and down aimlessly. It helps swimmers feel their power through the shoulders.
"The Squeezline has been the quickest and easiest tool I've used to improve the streamline of a swimmer at any age. It's one thing to tell a swimmer how to correctly do a streamline, but it's another thing for the swimmer to feel the proper position for themselves. The audible BEEP provides immediate feedback to the swimmer underwater and reinforces the guidance from the coach on deck.

I have found the Squeezline to be an invaluable coaching tool that I have come to depend on at every practice and would highly recommend to swim coaches at all levels."
– Frankie Hanson, head coach of Dowling Catholic High School girls swimming and diving, high school and collegiate All-American and NCAA "A" finalist in the Mile.
Get your Squeezline HERE!
Hear your streamline working
Drill the streamline into every stroke
Be there off every wall
The Squeezline is the world's first ever streamline sensor that is placed on the head underneath goggle straps and/or a cap. When pressed correctly by the arms in a good streamline, it makes an audible BEEP that can be heard by the swimmer. The sound only occurs when the swimmer is in a good streamline, and will otherwise be silent during normal swimming, or more importantly, if the streamline is not good.
The Squeezline gives feedback to the swimmer every time they do a great streamline, enforcing a lasting habit.

"It's the only paddle I've used that I can feel changing my stroke for the better!"
– Swimmer Grace Ryken
Get your E-Paddle Set HERE!
Fix dropped elbows and train early vertical forearm
Exchange all paddles for a variety of combinations
Incentivize the body to grip with the forearm
Ala-carte combinations available by email: [email protected]
Generating as much power as we can requires that we get as much grip on the water as we can. This is called "early vertical forearm" where the hand and forearm are oriented vertically as soon as possible to get an early and strong catch.
The E-Paddle uses a forearm paddle attachment with or without a hand paddle to incentivize the body to naturally want to use the forearm as an anchor. Use with the Gripper hand paddle to get the maximum effect!
Stay up to date on the latest from Swim Smart!
Website: www.swimsmarttoday.com
Instagram: https://www.instagram.com/swimsmarttoday/
Facebook: https://www.facebook.com/swimsmarttoday/   
YouTube:     https://www.youtube.com/channel/UCZdTikJbjtbBtFtprl3dD8A
Smart Side Newsletter: https://mailchi.mp/61145da97d66/join-the-smart-side-newsletter
Why Join the Smart Side Newsletter?
– 10% off your first order to get you jump started
– Subscriber only deals!
– New product updates (we are always working on something new)
– Educationals for athletes, coaches and parents
Don't forget to check out some of our other products. We have something for everyone!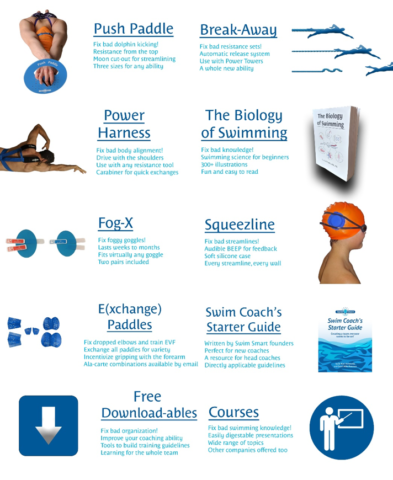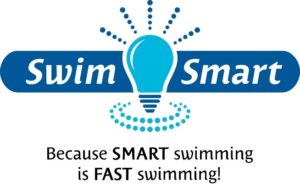 Swim Smart was founded by Karl Hamouche and Mike Peterson. We are coaches fixing swimming problems. Every product we created was to help our own kids improve and we hope they can help your swimmers too! At the core of everything we do, we just want swimmers and coaches to be more engaged in workout.
We would love the chance to Partner with you and your team (and vendors) to get you want you need and get your athletes swimming smarter!
Swim Smart is a SwimSwam partner.