The 2016 British Olympic Trials for swimming just wrapped up in Glasgow this past weekend and now the participating athletes must wait until Thursday, April 22nd for the official GBR roster for the Rio Games to be officially announced.
With just one Scottish swimmer, Hannah Miley, having clinched a roster spot via her 400m IM victory under the British Olympic-qualifying standard, other Scots not having made the cut for Rio may already be turning their eyes towards the 2018 Commonwealth Games as their next major international competition.
The 2018 edition of the Commonwealth Games is set to take place in the Gold Coast, Australia and Scotland has gotten a jump on the rest of the world by already releasing its selection standards for both athletics and swimming. The act is representative of the fact Team Scotland is aiming for its most successful overseas Games ever, upping the qualification ante in the hopes of bringing only the most likely medal candidates to the competition.
Aligning with the much stricter swimming standards upheld at the British Swimming Championships, Commonwealth Games' qualifiers will be determined by ranking all athletes (regardless of event) in priority order, in terms of percentage inside the selection time.
The top 16 swimmers will then be guaranteed nomination to Commonwealth Games Scotland for their place on Team Scotland, while additional swimmers may find themselves on the roster at the discretion of the performance director and national coach.
The qualifying standards themselves just be achieved at a list of sanctioned events being held in 2017, including the Scottish National Championships, British Championships, 2017 FINA World Championships, World Junior Championships, European Junior Championships and the World University Games.
Below are the qualification time standards published within the Scottish Team Selection Policies: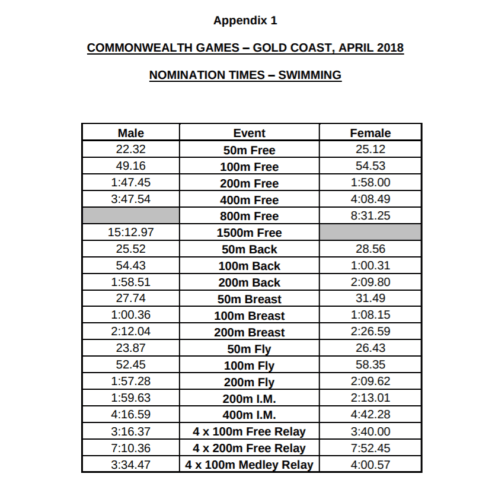 The detailed selection standards document itself can be downloaded from here.
Alan Lynn, National Coach for Scottish Swimming said: "Scottish Swimming has an excellent reputation of delivering podium success at the Commonwealth Games and the aim is to continue this success on the Gold Coast.
"Selection onto Team Scotland aquatics will be tough and the qualification standards are therefore challenging, reflecting the highly competitive nature of swimming in the Commonwealth. We expect the swimmers to deliver the performances required for consideration and we look forward to continue supporting and working with athletes and coaches in the run up to the qualification window next year, knowing that the team selected for the Gold Coast in 2018 will be well prepared, eager to race and ready to produce successful outcomes."