New Trier High School is one of the best public school program in the country and produce a senior class of 2013 that includes members of the first-ever high school relay to break 3 minutes in the 400 free relay. New Trier was a little late with their ceremonial signing day, but as they say, better late than never.
There are lots of stars on this team, but the biggest name is without-a-doubt USC-bound Reed Malone, who has developed into a top-5 recruit in the class thanks to strong versatility ranging from a 44.6 in the 100 yard free to a 4:19 in the 500, plus a 1:46 in the 200 fly and a 1:48 in the 200 IM. He is being joined in Los Angeles by Riley Hayward, a 1:02.2 100 yard breaststroker who will join USC's women's team.
Campbell Costley is a 4:58 500 freestyler who will join the great distance program at Denison that features the current Division III leader in the 500; she should be an immediate scorer at NCAA's. Sharon Wu is also going the Division III route and will swim for Wellesley with a 57.67 in the 100 back.
Indiana grabbed one out of this crew: Stephanie Marchuk. The Hoosiers continue to need depth to beef up their sprint group, and Marchuk gives them that with bests of 51.8/1:49.5 in the 100 and 200 freestyles. Marchuk was the runner-up in the 200 free at this year's Illinois High School State Championship meet.
Taylor Patterson, another sprinter, will go to Williams with a 24.18 in the 50 free. Williams is another top-flight Division III program, as their women were the runners-up at last year's NCAA Championship meet, though their sprint group is in rebuilding mode after the graduation of Carolyn Geller. Patterson should immediately step into their A 200 free relay, in the least, if her freshman year goes well.
Anna Peterson is also going the D-3 route with a 57.21 in the 100 fly. The school had a tough season last year, and in two-straight seasons have graduated their only sub-minute 100 butterfliers. With Peterson's addition, if breaststroker Nysa Casha can develop for the school, they could be an NCAA scorer in the 400 medley relay.
Jessie Sutherland is another very good butterflier, and with a fantastic taper placed 8th at this year's Illinois High School State Championship meet with a 55.90, and 12th in the 100 back. Her best time in the backstroke is 56.55, and will go to Duke next year where she will have a big immediate impact.
New Trier's diving program is as good as its swimming program, and State finalist Olivia Loucks will head to Yale. They'll have another great diver, Juliette Corboy, coming out in next year's class after a year where she's the favorite to win the State Championship meet.
Three of the seniors will swim Division I next year. That includes Malone and Jack Mangan, who was on the National Record setting 400 free relay with him. Mangan will swim under Mike Bottom and the Wolverines and give the program some more depth in the backstrokes (probably their weakest area at the moment). He has bests of 49.21 in the 100 back and 1:45.67 in the 200 back. He should be at-or-near the top of the Michigan 200 backstroke depth chart immediately.
David Freeman heads to Bucknell, a team with a great facility. He probably will project as a mid-distance freestyler (though he's very good in several events and could go a lot of different ways). He's been a 1:44.6 in the 200 free and a 4:44.4 in the 500 free.
And finally, David Tao will go to Emory in Atlanta, a Division III program. His versatility will be hugely valuable to them; he can sprint just about everything, ranging from bests of 21.74 and 47.74 in the 50 and 100 freestyles to a 59.6 in the 100 breast and a 51.4 in the 100 fly.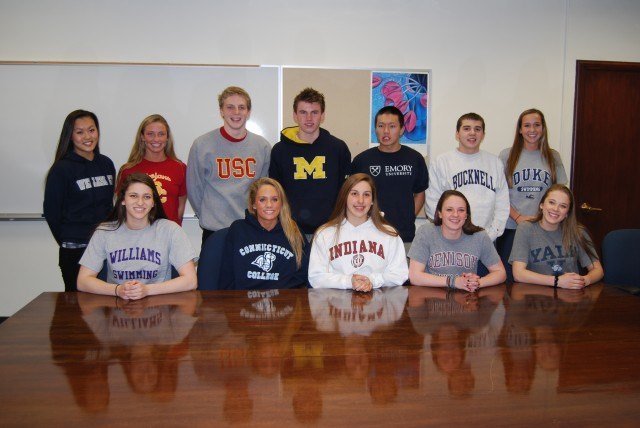 The class in summary:
Campbell Costley: Denison (Distance Freestyle)
Riley Hayward: USC (Breastroke/IM)
Olivia Loucks: Yale (Diving)
Stephanie Marchuk: Indiana (Distance Freestyle)
Taylor Patterson: Williams (Sprint Free/Fly)
Anna Peterson: Connecticut College (Fly)
Jessie Sutherland: Duke (Backstroke/Freestyle)
Sharon Wu: Wellesley, Backstroke
Denver Freeman: Bucknell (Distance Freestyle)
Jack Mangan: Michigan (Backstroke/Sprint Free)
David Tao: Emory (Sprint Free/Breast/IM)
Reed Malone: USC (Middle-Distance Free/Fly/IM)